Igueben new yam festival comes up 10th to 13th Nov, 2022.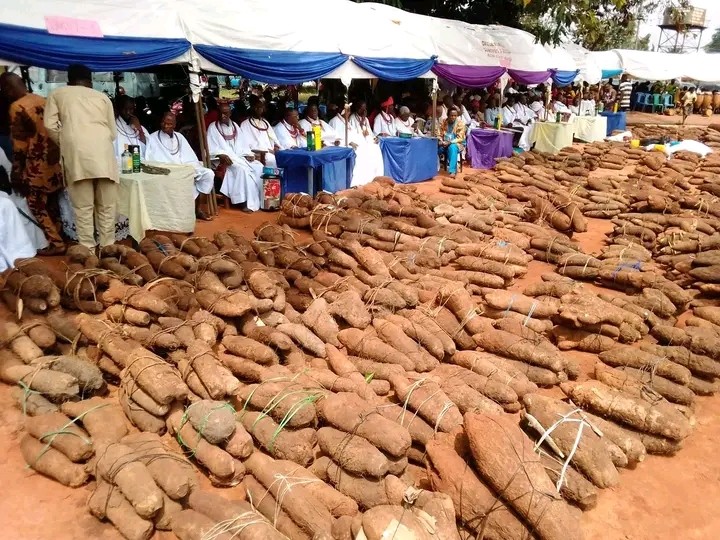 The Annual Ihuan (New Yam) festival in Igueben, comes up on the 10th to 13th of November, 2022 at the palace ground.
This Ceremonial event is significant in the life and time of every Son and daughter of Igueben Kingdom.
You would recall the historical town of Eben started with a settlement of a few gallant soldiers who had fought the Idah war, and whilst returning after the success of the battle found a luxurious growth of the pieces of yam they ate in their foot path. The bountiful harvest was an indication of a fertile land; a source of wealth of the Igueben people.
The King of the Kingdom over time has been a major source of strength for the people of Igueben as successful kings had demonstrated the virtues of hardwork, sacrifice, courage, wisdom, determination, persistence, passion, sincerity of purpose and collaboration to this day.
The present Onogie, HRM Ehizogie Eluojerior 1, JP and the Okaigun of Esan Land has indeed taken the annual festival to a new level.
The event which remains a colourful, grandiose and well celebrated festival now features wrestling competition, best producer of yam competition, different cultural displays of music, dances, and acrobats, always to the full admiration of all sons and daughters and in particular thousands of our friends from all parts of Nigeria.
This year, plans have reached advanced stage and all are fully prepared to make the occasion once again a very successful one.
Ernest Eboigbe.
Clevenard.com.
Categoría:

Arte y cultura