Otukpo is the pride of Idoma Nation -- Julie Ooja Okoh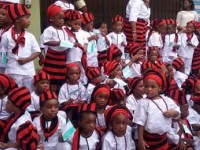 It is in the news that Federal govt has released Ecological Funds to State Governments and so state governments should release such Funds to Local governments to enable them embark on some ecological projects to avert future occurance of this year's experience.

Benue State government, it is about time some of our ancient towns look like towns.

Otukpo should be my example, from GRA to Ojira to Sabongari to Zone HB to Igbanomaje, show me one single motorable township road. We go out and return beaten because of the roads. We can not continue like this.

Otukpo Town is as old as Makurdi though a state capital ,as old as Gboko and Kastina Ala yet depleting in development.

There are no roads no water and with refuse dump sites everywhere, it is unacceptable. We cannot continue to live like this.

Otukpo is the seat of Ochidoma ,it is the pride of Idoma Nation.
let our people be excited coming home this yelutide season .
Categoria:

Sociedade
22 Outubro, 2022
385 views