The heartbeat of your organisation is inside those 12 pivot points - Be strong and healthy.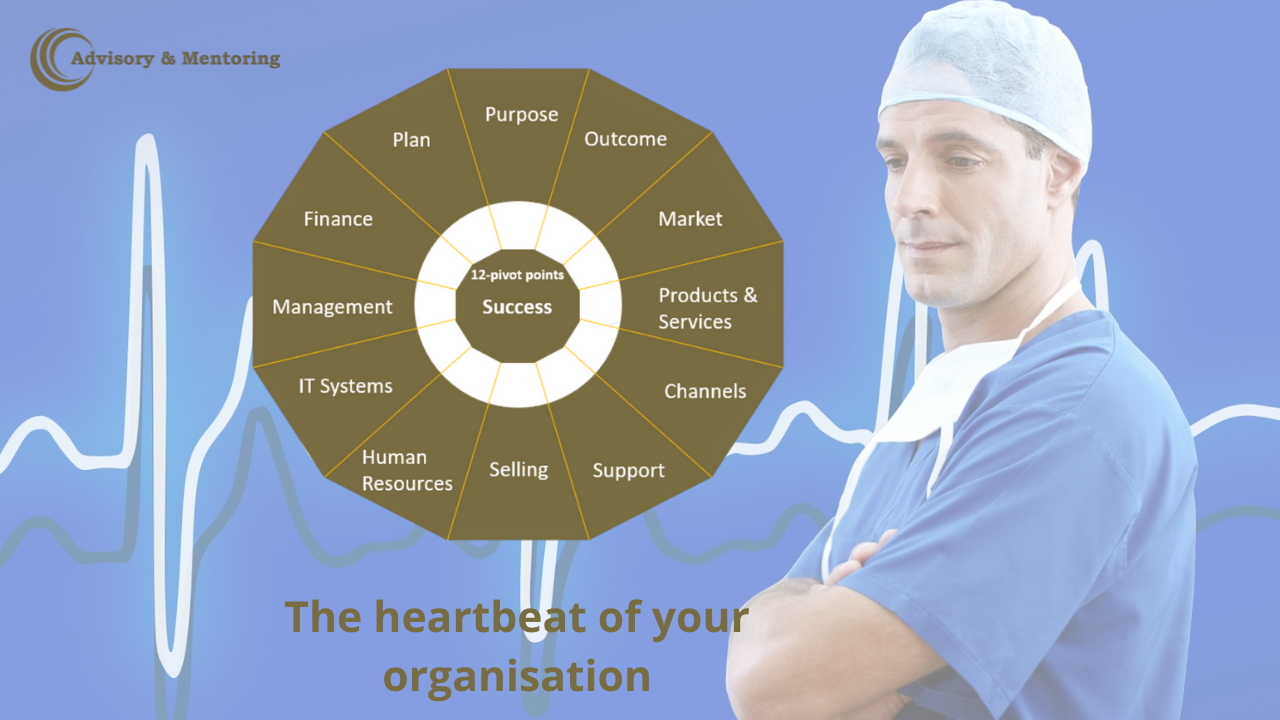 5 September, 2023
497 Besuche
What has 40-years of helping corporations and organisations taught us?

We have learned that there are 12 Pivot-Points in every organisation that must be conquered to satisfy that organisation's objectives. Failure in any of these Pivot-Points will compromise objectives and may even cause failure.

You don't want that and we don't want that.

This way of thinking, or this methodology, is unique in the business world, is validated by refereed research, and by many satisfied clients over a quarter of a century.

Applying the 12 Pivot-Point Methodology - Apply it on your own or alongside an expert

We apply a powerful diagnostic to your organisation to identify the issues that require remedy in business systems and inter-relationships. Those issues fall into one or more of the 12 core elements of every organisation.

We then bring expertise through our subject experts to those elements to help you navigate your specific issues in a complex world.

Like you, we have learned from decades of experience and research that there are no islands in organisations. When things happen, or don't happen, there are impacts up and down the organisation.

Therefore, to fix issues, or to undertake change, or to take advantage of opportunities, one needs to understand what happens up and down the organisation in order to successfully deliver objectives.

There are two broad ways clients engage: they either have a very specific issue they need resolved, or they have a number of issues and aren't sure where or how to start.

We have a way of looking at organisations that understands how they think, how they operate, and how to deliver successful outcomes that last.

The following diagram illustrates the 12 Pivot Points and their relationship with each other.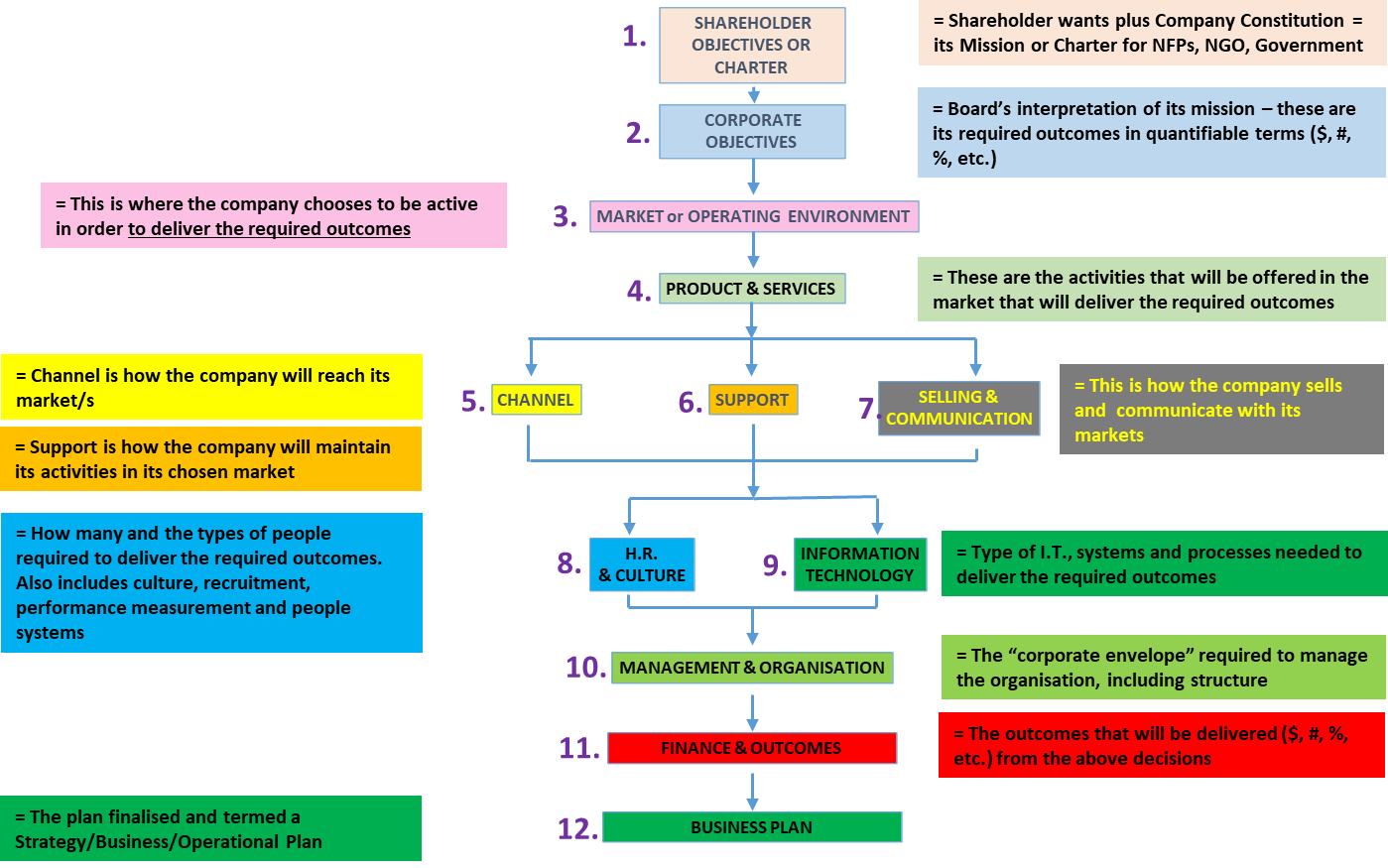 copyright Advisory-Mentoring and Jacoby Consulting Group
Many CEOs have adopted this one-pager and use it in the boardroom and at management meetings.

You will see results within 3 months.

The 12 Pivot Points we focus on

1. Organisational purpose (either shareholder objectives, or charter or constitutional objectives). Describes why the organisation exists.

2. Organisation's required outcomes (KPOs, priorities, and strategic direction). Converts broad purpose statements into measurable performance metrics.

3. Market and Operating environments. Identifies the operating environments from which all performance metrics must be achieved.

4. Products and Services (including manufacturing, procurement and product and service-related systems). Identifies the things that customers will buy in the markets you've chosen to satisfy performance metrics.

5. Channels and distribution. Determines how you will get your products and services to their customers.

6. Support systems. Determines how you will support the customers and intermediaries in all markets to provide an efficient and profitable service.

7. Selling and Communication. Determines how you will approach, offer and secure customer purchase and the messages you will use.

8. Human Resources and culture. Determines the number and types of people you need, and the culture that will engender the mindsets required.

9. I.T. systems, procedures and processes. Determines the systems needed to make it all work.

10. Management including structure. Determines how you will manage and structure the business.

11. Finance and other outcomes ($, #, %). The decisions above are modelled and compared to performance metrics.

12. Formal Plans. When #11 = #2, then formal plans are created that explain and instruct the organisation.

Find out more by contacting me or visiting Advisory & Mentoring 12 pivot-points.
Implement them on your own or with the help of an expert(s).


NB: The process can be applied whatever the size of your business, from government to start-up.
Would you fly at night without a dashboard? Of course not.
The 12 Pivot-Points will get you there safely and effectively!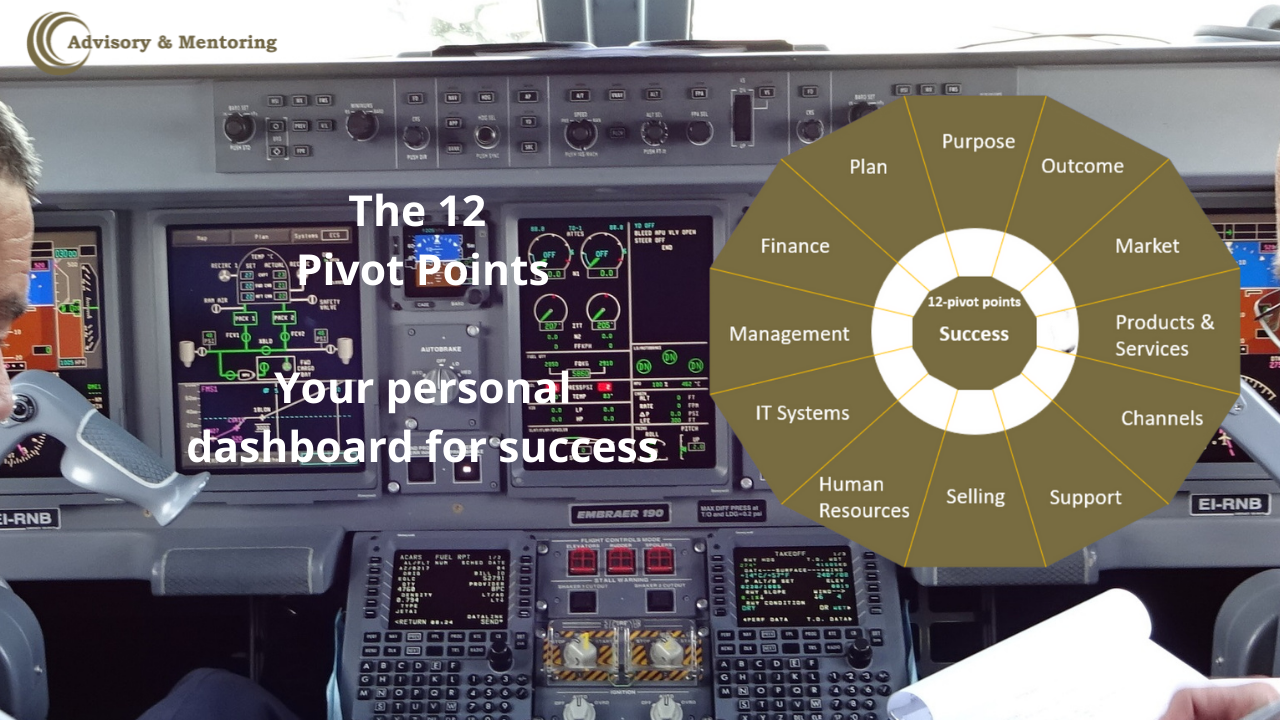 Kategorie:

Unternehmen

Geschrieben von:

Thierry Bayle (Advisory & Mentoring)