A plaque in honour of " Jimi The Hero"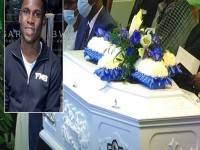 It is often considered a rare privilege to have ones feet printed on the sand of times and such is the story of Folajimi Olubunmi Adewole otherwise known as " The Hero" due to the role he played in rescuing a woman who fell into the River Thames in 2021.

So it was therefore a great privilege to witness the unveiling of a memorial plague in his honour at the Southwark Cathedral Square, by London bridge, today Sunday 22 January 2023.

Among some of the dignitaries present at the event were Jimi' parents, extended family and friends, including Sadiq Khan Mayor of London, Bishop Christopher, Bishop of Southwark, Cllr Michael Situ, Deputy Mayor of Southwark, local MP Neil Coyle, Sir Simon Hughes former local MP, numerous councillor colleagues and dignitaries.

Folajimi was 20 years old when he went into the water in April 2021 for the rescue.

He was described as "the best of all of us" as the plaque was unveiled in memory of him.

His brother, Bolaji told BBC Newsbeat he hoped the recognition would "inspire other people to be a hero".

"It's no longer sorrow we feel," Bolaji added, "we celebrate him now".

Jimi, from South London, was on his way home from work when he went into the water with another would-be rescuer, Joaquim Garcia.

Report had it that the woman and Joaquim were saved by the coastguard and marine police but Jimi couldn't be found.

His body was recovered about six hours later near London Bridge.

His mum Olasunkanmi, who regularly visits the spot, said she was "so happy" to see the tribute.

"Jimi is a hero and that's why everyone has come here today," she said. "I'm so grateful."

'He made me a better man'
Jimi's best friend Bernard Kosia added. He was with him on the night of the incident but didn't follow him into the water because he can't swim.

"I didn't just lose a friend, I lost an adviser, I lost someone I could take comfort in," he said.

"Being able to see the plaque, and being able to share this moment today with everyone, means everything to me.

"Standing here today knowing that this is for him, and that he can live on even when I am dead, I am at peace," he said, adding: "He made me into a better man. I want to say thank you, Jimi."

Mayor of London Sadiq Khan, who also attended, said Jimi "was the best of all of us".

"His parents' pain will never go away, but we can make it easier by talking about Jimi's story" he concluded.

The ceremony on Sunday was organised by the Living Bankside
charity.

Idemudia Franca
Clevenard blogs.
Category:

Society