OYO OPC APPOINTS SHAFAUDEEN FOUNDER, PROFESSOR SABIT OLAGOKE AS PATRON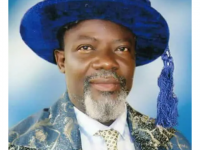 #Iroyinominira
4th December, 2022

The Oyo State chapter of the Oodua Peoples Congress, OPC New Era has appointed the Founder and Spiritual Head of Shafaudeen in Islam, Professor Sabit Ariyo Olagoke as its Patron.

The Group stated this while its leaders paid a courtesy visit to Professor Olagoke who is also the Mogaji and Arole of OgunElu Aare Alasa Dynasty at Olagoke Villa, Oja-Oba, Ibadan.

The OPC New Era executive members led by Comrade Adesina Akinpelu while speaking on behalf of the group commended Mogaji Olagoke for his immense contribution to humanity and society at large.

Akinpelu also lauded the efforts of Mogaji Olagoke for his rapid transformation and beautification of his ancestral home.

"Our father Mogaji is not only a religious leader but a man of integrity. His uprightness and steadfastness is second to none. See how our father has transformed and beautified his ancestral home to a centre of attraction. This is worthy of emulation for all Mogajis and sons and daughters of Ibadanland. We are very proud of you Sir."

Mogaji Olagoke while speaking to the leaders of the OPC narrated how he lived a life of an atheist for 25 years before he finally accepted Islam in 1982.

"I was an atheist for 25 years. I do not believe in the existence of God. I made mockery of those who called themselves Muslims or Christians. I had this befief for 25 years before I finally accepted Islam in 1982. I believe God can use anybody."

Speaking further Mogaji Olagoke said that that he is not only a religious leader but also a believer in the good aspect of Yoruba culture and tradition.

"I want to tell you today that I'm also an OPC. We are all OPC members. In as much as what we are doing is about equity, justice and fairness, we are all OPC members. It will interest you to know that OgunElu Aare Alasa family migrated from Ejigbo. We had to trace where we came from for us to be able to write our history for generation to come."

Mogaji Olagoke who promised to work with OPC to contribute meaningfully to the peace and development of the society also accepted the offer of the OPC New Era in Oyo state to become its Patron.

Other leaders of OPC present at the event were the acting State Coordinator, Comrade Lawal Sharafadeen Akindele, Acting Deputy State Coordinator, Comrade Bashir Kolawole a.k.a Man K and others.
Category:

Arts & Culture