THE TRIUMPHANT VICTORY OF A DANCING GOVERNOR: A GOOD OMEN FOR THE GOOD PEOPLE Of OSUN STATE. By David Adenekan.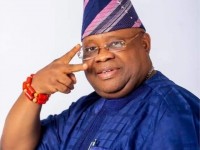 #Iroyinominira
December 2nd, 2022.

Hmmm, my kinsmen again!

To start with, some of these so-called APC politicians are shameless people in the face of defeat because, all of the verbal war and negative rhetorics to discredit the newly elected governor of Osun state, Ademola Adeleke, are needless at this time.

In the first instance, did Oyetola win the election in 2018?

Did the people of Osun state not reject him because of the abysmal failure of his predecessor, Governor Rauf Aregbesola and the election was later rigged and swayed in his favor by the ruling party, APC?

The people of the spring state (Osun state), need to search their conscience and ask a simple question; did Oyetola win the 2018 governorship election?

NOTHING GOOD CAN BE BUILT ON INJUSTICE OR UNRIGHTEOUSNESS.

TRUTH BE TOLD!

"WHEN THE FOUNDATIONS ARE DESTROYED WHAT CAN THE RIGHTEOUS DO": - PSALM 11:3. This may be interpreted in Yoruba language as "Ilé tí a bá fi itó mọ ìrì ló máa wo."

Are we trying to replicate the similar problem we have in a contraption called Nigeria by building a government on a faulty foundation?

Please let Ademola Adeleke be. He is the choice of the people and the beginning of hope and justice in Osun state.

Now, the vibe in every nook and cranny of Osun state is a good taste. The ecstatic joy of many in Osun state cannot be quantified on the day of the swearing-in ceremony of the "Dancing Governor".

Yes, it was a celebration galore.

The people have spoken and Senator Ademola Adeleke is their choice.

Hmmm, true democracy in action!

Yes, righteousness exalts a nation!!

The issue of formal education that some people are criticizing him for has been taken care of by Governor Ademola Adeleke. He went back to school in the United States of America to obtain an Associate Degree to meet the electoral requirement of INEC.

Therefore, what is the qualms again?

He was a Senator for four years. He has learnt the art of governance in the Upper Chamber of the Legislative Arms, the Senate.

Not only that, he was born into a first class political family in Osun state. His father was a senator in the second republic. He has learnt a lot of politicking and the art of governance under the tutelage of his brother of blessed memory, Senator Isiaka Adeleke, who was a governor of the state many years ago.

"Say it to the marines" that the "Dancing Governor" is a layman or novice in governance.

Moreover, formal education is not the only requirements of good leadership. Làákàyè làgbà (wisdom).

I have seen PHD holders in the world that sound very stupid.

Also, I have heard some people saying that Oyetola did some good things in his four years in office and should be re-elected. Did Rauf Aregbesola not do some good things in his first term in office and did he not become a tyrant in his second term?

Is another APC style of leadership not to wait for the second term before they roll out their real agenda to suffer the people?

Who knows his agenda for his failed second term bid, if he had won re-election?

Hmmm, "inú èèyàn jìn..." This is interpreted as the heart of human beings are so deep that it is very difficult to fathom the real thought.

At this juncture, it is very important to highlight some of the so-called "Good Things" that he left behind:

1. Did he not empty the treasury and did members of his team not steal all the office equipment and furniture in some government offices? Did some of his officials not vandalize some of the government properties because they lost the election?

2. In less than a week that he will vacate the office, did he not hurriedly make appointment of 30 permanent secretaries in Osun state ministries and parastatal without following the due process?

3. In the same vein, did he not recruit 20,000 new staffs into the state civil service without due process and did not consider the fact that Osun state is currently broke and cannot afford to pay their salary?

Is erstwhile Governor Isiaka Adegboyega Oyetola not very vindictive and wicked?

Hmmm, what a legacy!

Is he not a bloody pretender who was waiting to win his re-election before he unveils his real identity?

4. What about the installation of traditional rulers in his office without following the due process?

Is this not a desecration of our traditional institution?

However, we do not need a PHD or Masters Degree holder to govern Osun state. What we need is a God-fearing leader who can assemble experts from different fields to work with him to run the government and get the job done.

May the Good Lord give Governor Ademola Adeleke wisdom to do the right things for the good people of Osun state. Amen!

Prejudice apart and without mincing words, David Adenekan will come against Governor Ademola Adeleke with his pen for any kind of misgovernance.

YES, I PROMISE.

May God Almighty help me. Àṣẹ Èdùmàrè.

YES, THE GOOD PEOPLE OF OSUN STATE HAVE RIGHT THE WRONG OF 2018 AND IT IS TIME TO START ON A GOOD NOTE.

AGAIN, RIGHTEOUSNESS EXALTS A NATION.

LET ADEMOLA ADELEKE BE AND STOP ALL OF THE BACKLASH AND NEGATIVE RHETORICS.

GOD BLESS THE PEOPLE OF OSUN STATE.

IRE O.

TIME WILL TELL.

DAVID ADENEKAN IS THE EDITOR OF SHEKINAH INTERNATIONAL MAGAZINE AND A MEDIA EXPERT. HE WRITES FROM CHICAGO, ILLINOIS.

davidadenekan5**********.
Category:

Arts & Culture