A REJOINDER TO MR. ADEDAMOLA ADETAYO MIRAGE OF RESOUNDING VICTORY FOR TINUBU COME FEBRUARY 25TH, 2023 AS HE VISITS THE GRAVESIDE Of MOSHOOD KASHIMAWO OLAWALE ABIOLA TO INVOKE HIS SPIRIT. BY DAVID ADENEKAN.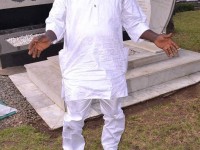 #Iroyinominira
18th November, 2022


To start with, as at today, the exit poll is giving us a different result against the thoughts or assumptions of the likes of Mr. Adedamola Adetayo.

As part of my job as a media expert and for the past four weeks, we have been collecting and collating the exit poll every week and the data is tilting in favor of Peter Obi in three out of the six geo political zones, namely; the southeast, south/south and North Central.

Prejudice apart, Peter Obi is surging heavily in Benue, Plateau and Taraba states and this is with the facts on ground. It is pertinent to say that with the exception of Plateau state, Benue and Taraba states are PDP control states and all the three states are predominantly Christian states.

Senator Bola Ahmed Tinubu will need to pull the strings to alter the figures on the drawing board except it is going to be business as usual, where the Oligarchs will rig the election for the candidate of their choice.

Mr. Adedamola Adetayo, are you sure this is not a mirage of some sorts wherein, you are claiming a resounding victory for your candidate, Senator Bola Ahmed Tinubu come February 25th, 2023?

One good piece of advice and it is for free; you guys will really need to go back to the drawing board and do the needful in Southern Nigeria.

Governor Wike has just declared his support for Peter Obi and Seyi Makinde may go the same direction with the other G-5 Governors that just pulled out of the PDP.

The situation is not that different for your candidate in the north east and north west. All the three senators in Katsina state (the home state of Mr. President) have decamped to PDP.

Also, the story is equally not different in Bauchi state.

Kano state will be a battle ground between Ganduje and Rabiu Kwankwaso. Also, don't forget Atiku is a Fulani man from the northern region and will surely take his own fair share of the votes. It is really going to be a battle ground in Kano state. We are closely monitoring the unfolding political drama in Kano state.

Kaduna state is almost evenly divided between northern and southern Kaduna. Though, the delineation of constituency favors the northern part of Kaduna because of the strong influence of the Oligarchs in government. Obi will take the chunk of the votes in southern Kaduna and his running mate will slug it out with El Rufai of APC and Atiku of PDP in northern Kaduna. Obi's running mate is from the elite family in northern Kaduna and he will surely take home some of the votes.

Sokoto state is currently locked down for PDP. It is a PDP state and Governor Aminu Tambuwal will do everything to deliver the state to Atiku.

Adamawa state is almost evenly divided between Christians and moslems. It is the home state of Atiku Abubakar. Tinubu's chances of getting a considerable amount of votes is very slim because of his moslem/moslem ticket. It is going to hurt him in many states that have great numbers of christian devotees.

Even in Borno state where Kashim Shettima hails from, it is not a win-win situation for the APC and Tinubu if the insecurity challenges is taken into consideration. Will the people of Borno state want a Shettima who is allegedly viewed as high handed and arrogant emerge Vice President? Some stakeholders allude that his new position, if supported, may create new challenges and as such, become spoilers to his aspirations.

This is not the Abiola/Kingibe1993 moslem/moslem ticket. NOT AT ALL. It is a different time with different people.

The above are some of the states we will analyse for now as we draw closer to the so called 2023 general election.

The best bet for the APC flagbearer will be to consolidate his win in southern Nigeria but that seems very difficult with the surging of the Obi Movement that has become so physical and visible in virtually all the states in Southern Nigeria including Yorùbá land.

Say it to the marines that, with the great support of Afẹ́nifẹ́re, Peter Obi will not make the required 25% votes cast in all the Yorùbá states.

Mr. Adedamola Adetayo, politics is a game of numbers and it is not by going to MKO's graveside to invoke his spirit or ghost to win election for your candidate, Mr. Èmilókàn.

PLEASE LET MKO CONTINUE TO REST IN PEACE AND TELL THE CAMPAIGN TEAM OF YOUR CANDIDATE TO GO BACK TO THE FIELD/DRAWING BOARD AND DO THE NEEDFUL EXCEPT YOU GUYS ARE THINKING BUHARI AND HIS NORTHERN CABALS WILL RIG THE ELECTION FOR YOUR CANDIDATE. FOR YOUR INFORMATION, BUHARI HAS MADE IT VERY CLEAR THAT NIGERIANS SHOULD VOTE FOR THE CANDIDATE OF THEIR CHOICE, IRRESPECTIVE OF POLITICAL PARTY AFFILIATION AND THE INTERNATIONAL COMMUNITY WILL HOLD HIM TO HIS WORDS.

THE WHOLE WORLD IS WATCHING!!

ELECTION IS WON AT THE POLL NOT ON THE GRAVESIDE OF MOSHOOD KASHIMAWO OLAWALE ABIOLA.

LÓ BÁ TÁN!

PLEASE BE SCIENTIFIC AND FACE THE REALITY.

"A WORD IS ENOUGH FOR THE WISE."

TIME WILL TELL!!

DAVID ADENEKAN IS A MEDIA EXPERT. HE WRITES FROM CHICAGO, ILLINOIS.
Category:

Arts & Culture