PA.REUBEN FASORANTI'S ASSUMPTION OF THE LEADERSHIP OF AFENIFERE: A YORÙBÁ'S "EPHEMERAL UNITY" ANCHORS ON TINUBU'S DESPERATE POLITICAL AMBITION. By David Adenekan.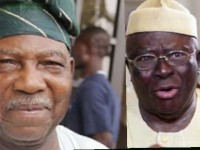 #Iroyinominira
November 2nd,2022

To start with, the structure of Afẹ́nifẹ́re is tightly in the hands of Pa. Ayo Adebanjo. None of the chairmen, in all the Yorùbá states including the National Secretary, Chief Sọla Ebiseni attended the so-called endorsement meeting in Akurẹ.

Moreover, for the past two years, Pa. Fasoranti has not attended the meeting of Afẹ́nifẹ́re, he had tendered his letter of resignation and the letter had since gone viral.

Many of the people that are following Pa. Fasoranti are APC members who are not members of Afenifere. The likes of Baba Bisi Akande, Chief Segun Ọsọba, Chief Gbenga Daniel and Rtd. General Alani Akinrinade are not members of Afẹ́nifẹ́re. Segun Osoba left the group with Tinubu in 2003, Gbenga Daniel had also left the group, a long time ago.

Baba Bisi Akande, had ceased to be member of Afenifere for a very long time.

For the information of the public, General Alani Akinrinade (Rtd.) was never a member of Afenifere. The only member of the current Afenifere under the leadership of Pa. Ayo Adebanjo that attended the event in Akure was Abagun Kole Omololu (a great benefactor of Tinubu's largesse), the Organizing Secretary.

Afẹ́nifẹ́re, under the leadership of Pa. Ayo Adebanjo will do the needful concerning him at the appropriate time. In fact, for almost two years now, he has not attended the meeting of Afẹ́nifẹ́re.

The decision to support Peter Obi has been in the news for almost six months now. Why are they just waking up from their sleep to antagonize the decision of the group? Why not immediately? If not that they are saboteurs and enemies of Yoruba people working hard in order to perpetuate the interest of northern oligarchs.

ENOUGH IS ENOUGH!

Yes, no cause for alarm. Afẹ́nifẹ́re support for Obi is on course and there is no going back.

Èmilókàn and his acolytes are just playing deadly politics with the interest of Yorùbá nation.

Also, it is pertinent to state here that Pa.Fasanranti has lost touch with the activities of the group in the past 2 years. He has not attended any meeting since he tendered his resignation letter.

Where will he start from without the secretariat and most of the local structures?

Can he truly handle this again with his failed health? Old age is the desire of all but we must not push ourselves beyond our limits.

Also, truth be told, can a 96 years old man that has not attended the meeting of the group for last two years get a strong grasp of the current activities of the organization and muster the needed strength to lead Afẹ́nifẹ́re with a sound mind in a precarious time like this?

Is Baba not senile, as alleged by the former Afẹ́nifẹ́re Secretary, Arogbofa?

Did he not decide to resign his leadership almost two years ago because of a lack of confidence in his medical ability to lead?

Yes, his decision to now assume the leadership of the organization is best described as a mission that has failed on arrival.

Yes and with due respect to Pa Reuben Fasoranti who has, in the past, served meritoriously for the progess of Yorùbá nation but today, he no longer has the grasp of Afẹ́nifẹ́re.

Truth be told!

Hmmm, what a so-called ephemeral leadership that will further shatter the unity of the Yorùbá people in a time that the country is sitting on a time bomb that may explode anytime from now!

Is this the right thing to do in a dangerous time like this???

Also, did Tinubu not try to factionalise Afẹ́nifẹ́re, under the leadership of Pa. Reuben Fasanranti into two groups, Afẹ́nifẹ́re mainstream and Afẹ́nifẹ́re Renewal Group?.

Today, where is Afẹ́nifẹ́re Renewal Group???

Afẹ́nifẹ́re had in the past survived Tinubu's sledge hammer and this
one will not be an exception.

Time will tell!

Moreover, why will you use the political ambition of one individual (Tinubu) to destroy an organization that has been in existence for many decades?

2023 is going to come and go, by the special grace of God but then, what happens to Afénifẹ́re???

Prejudice apart and without mincing words, this raging storm in Afẹ́nifẹ́re because of Tinubu's desperate political ambition is uncalled for.

Mark my words, this unfortunate development may work in two folds, a terminator and the evolution of a new trajectory that will reincarnate the true spirit of Awoism in Yorùbá land.

Yes, "a máa dàá sí lẹ̀ tun sà ni. Tí Kò bá dàrú kò ní ṣe é tún tò padà."

Alas, this may be the best time to identify the true conscience of Awoism as we move beyond a point of political cul-de-sac to the beginning of a new dawn, HAPPY NEW DAWN IN ADVANCE.

However, the coming new dawn will not come without casualties in Yorùbá land.

Yes, the deadly terminator will do his job and there will be no safe sanctuary for anybody that has eaten the forbidden fruit, at the detriment of the people.

Lastly, an emergency meeting for a roll call of all the authentic members of Afẹ́nifẹ́re with a press release, under the leadership of Pa. Ayo Adebanjo to save the soul of Yorùbá nation from the detractors is needed and this cannot be overemphasized.

AGAIN, TIME WILL TELL.

Hmmm, let the fire works begin....

THINK YORÙBÁ NATION!

David Adenekan Is The Editor Of Shekinah International Magazine And Secretary Of Afẹ́nifẹ́re, United States. He Writes From Chicago, Illinois.

davidadenekan5**********.
Category:

Arts & Culture