TINUBU'S PURPORTED ENDORSEMENT BY PA FASORANTI: ANOTHER SCAM BY THE EMILOKAN PROPONET. -David Adenekan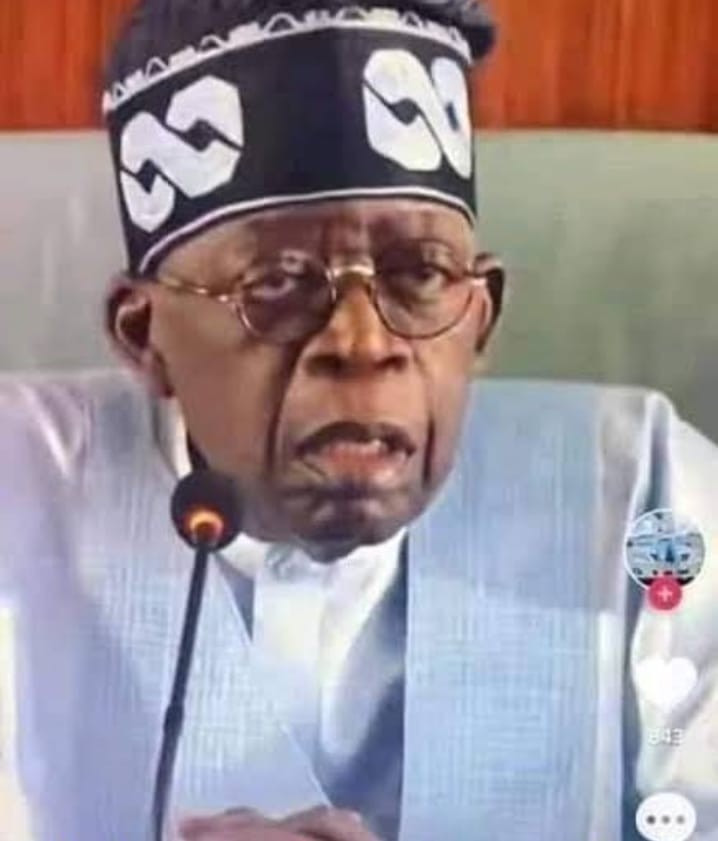 #ìròyìnOMINIRA
October 30th, 2022.

..... He Is Just Playing To The Gallery. Says David Adenekan


Yes, Tinubu is only a rabble rouser!

Afenifere, the apex socio-cultural body of the Yorubas, globally, has spoken and its words comes against the Emilokan candidacy and it will not change. Not at all.

The Apex body, to the knowledge of all, has endorsed Peter Obi based on equity, fairness and justice. The three cardinal principles that connote the word "Afenifere."

Pa Reuben Fasoranti, to the knowledge of all Yorubas, is no longer the leader of Afenifere. He tendered his resignation almost two years ago but however, he is entitled to his personal opinion and it is not to say that he has endorsed Tinubu.

It is imperative here to state that other presidential candidates in Yoruba land and elsewhere, can visit him to seek his fatherly blessing. No qualms!

Yes, Tinubu can visit the man on a personal level. It is not a sin.

Prominent elders and leaders of Afenifere of note, have added their voices to the development as it relates to the failed visit and, one of them, Akin Malaolu has this to say;

"The meeting failed. I said so before they got there. Tinubu's walk to pay Fasoranti a visit in Akure failed at first meeting."

"It was well celebrated. But what? That it was significant amongst other things that Candidate Tinubu will need endorsement before outsiders can accept him.

"And he did what? Tinubu assembled some political clowns and flew them to meet Pa Fasoranti in Ondo State.

"And what happened there?
They met with Pa Fasoranti and he told them that it would be a futile exercise to act the role they wanted him to play. He told them clearly and strongly that he has no right to speak for Afenifere after he had relinquished the position of leadership to Pa. Ayo Adebanjo and that it would be a sin for him to do so.

The crowd yelled while many wept profusely and when Pa Reuben Fasoranti calmed them down again, he continued and said.
"I can lay my hand on his head but someone amongst you all should give the prayers".

"Without knowing what the message meant, six clowns signified their intentions to give the prayers. One clown was chosen.

"The Prayer....
"When the wicked prosper, he will think that God and Allah have answered his prayers, but the two Holy Books (The Quran and the Bible) tell us that the wicked prosper for a while only to perish finally at the end." They all chorused "Amen".

"That was what they achieved at their uncalled for meeting with one of AWOLOWO'S GREATEST.

"Thanks."

Another prominent leader of Afenifere, Mogaji Gboyega Adejumo who was also privy to the outcome of the meeting, stated thus:

"Chief Fasoranti did not say he was acting on behalf of Afenifere."

"Chief Fasoranti did not say he has endorsed Tinubu.

"All the other participants at the gathering at Chief Fasoranti's home were either retired Yoruba elders, APC stalwarts, or mere visitors. NO ACTIVE AFẸ́NIFẸ́RE LEADER WERE PRESENT.

"As long as Tinubu continues to be what he is; a fraud, shameless and without honour, expect him to continue to be opportunistic in taking undue advantage of this type of visit, using a reverred, retired leader of over 96 years of age to achieve his dubious intent. A little over 2 years ago, this same Tinubu was in the home of Chief Reuben Fasoranti when his daughter was killed by some Fulani herdsmen, only for Tinubu to deny the obvious fact that, it was the dastardly act of the Fulani, by querying the absence of cows. "Where are the cows," he asked?

"Therefore, there are no surprises in his latest moves.... Fakery is his trade, Deciet his ways!

"If therefore anyone publishes anything at all, in the name of Afẹ́nifẹ́re, please ignore and discountenance such a dubious, farcical useless exercise."

According to another elder statesman, Prof. Akinyemi Onigbinde, "Not a single member of Executive Committee of Afenifere, under the leadership of Pa Ayo Adebanjo, as duly put in place by Pa Reuben Fasoranti when he handed over the leadership to Pa Ayo Adebanjo, was present at the Akure meeting.

"Not even Afenifere General Secretary who is from Ondo state, and probably lives in Akure, dignified the crowd of APC faithfuls at the premises of Pa Fasoranti with his esteemed presence.

"Unknown to many, Pa Fasoranti called Pa Ayo Adebanjo and informed him of Bola Tinubu's request to pay him a visit and, wanted to know if he should go ahead to grant him audience.

"Pa Adebanjo advised that it would not be proper, to not receive the APC presidential candidate, as others would still come on such visits.

"I am a member of Afenifere EXCO, I am a member of the Caucus, and I am also on the political committee, and I was duly invited to Akure for the meeting, through a telephone call by Alagba Seinde Arogbofa.

"I declined and I informed him that he should inform Pa Fasoranti of my apology to not honour his invitation to join him in receiving Bola Tinubu.

"I looked through the list of those present at the Akure 'blessing' of the presidential bid of Bola Tinubu, they were majorly people whose ties with Afenifere is so distant, as to be non existent.

"Many of them, supposed Afenifere members, have not been at any of Afenifere monthly general meetings in the last two years.

"They are at best, functional APC members, who should be in the company of their party candidate to seek support from anyone that may be willing to give it. Yes, there may be one or two who definitely went to Akure to honour Pa Reuben Fasoranti's invitation, out of respect for the old man.

"On Bola Tinubu's presidential bid, Afenifere's stand is clear and it is not an Ayo Adebanjo personal position." He stated.

Enough of all these political brouhaha trending in the news about Tinubu's visit to Pa. Reuben Fasoranti. It is certainly not a big deal at all.

However, this kind of political gimmick will not divide the rank and file of the Apex body, Afenifere because, the movement for the support for Peter Obi is on course and the leadership of Afenifere are ready and determined to pursue it to a logical end.

YES, NO SHAKING! THE MOVEMENT FOR PETER OBI'S PRESIDENCY IS REAL AND SOARING BY DAY.

Hmmm, another scam from Tinubu!

Yes, Tinubu is the greatest scammer of all time in Yoruba land.

Is this strange from a man that has scammed almost everything about his life, parenthood, age, academic qualification and leadership style?

What else can Emilokan do that will surprise us!!

Absolutely nothing!!

Yeyenatu!!!

THINK YORUBA NATION!

Time will tell!

DAVID ADENEKAN IS THE EDITOR OF SHEKINAH INTERNATIONAL MAGAZINE AND SECRETARY OF AFENIFERE IN UNITED STATES. HE WRITES FROM CHICAGO, ILLINOIS.

davidadenekan5**********.
Category:

Arts & Culture