A REJOINDER TO GOVERNOR BABAJIDE SANWOOLU'S PLAN TO INCREASE PUBLIC WORKERS SALARY IN LAGOS STATE . BY DAVID ADENEKAN.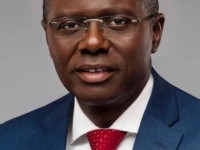 #Iroyinominira
4th October, 2022


The plan to increase workers salary by the Sanwoolu led government as published in today's Punch Newspapers, dated October 4th, 2022 seems like another bad politics, as demonstrated by the defacto government of Lagos state.

As usual, with less than 6 months to the so called general elections, Sanwoolu plans to increase workers salary.

Are they not playing politics with the lives of the people?

The defacto government of Lagos state, did a similar thing shortly before the 2015 general elections.

It should be noted that, long before the 2015 general elections, the school fees for students in the Lagos State University was increased astronomically to half a million naira and this was reverted to the old amount, barely some few months to the General Elections in 2015.

Yet, Lagosians have remained so gullible as to cast their votes for this treacherous and deceitful defacto government in Lagos state.

Hmmm, bad politics indeed!

It is simply called poverty of the mind; "wọ́n ti mú wọn lẹ́rú"

Joseph Stalin, in his conceptualization of the theory of the chicken (victim) and the power of the corn, revealed thus; "Let the live chicken go through severe pains by ripping off its feathers before you throw corns at it, (the live chicken) to show how easy it is to control the destiny of human beings.

Stalin ripped off the feathers of a live chicken and made the chicken to go through a lot of pains and later, threw corns at the chicken to alleviate the pain. This was done so that, the live chicken can forget about the pains and move in the direction of the master.

Did Yinka Odumakin of blessed memory not use this analogy as a metaphor to attest to the way and manner Senator Bola Ahmed Tinubu described one of his disciples, Senator Tokunbo Afikuyomi?

A subservient relationship indeed!

Is it not deceitful and callous, when it so happens that, it is only during the electioneering campaigns that you remember to give Lagosians some crumbs called "stomach infrastructure" to alleviate their pains?

What a moribund level of democracy!

Hmmm, who is fooling who?

Time will tell.

David Adenekan, Is The Editor Of Shekinah International Magazine And A Media Consultant. He Writes From Chicago, Illinois.

davidadenekan5**********.
Category:

Arts & Culture