"TO YOUR TENT OH ISRAEL, YORÙBÁ ILÉ TÓ LỌ." By David Adenekan.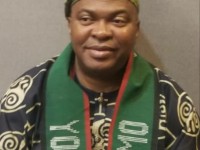 #1ròyìnòmìnira
September 19th, 2022


A sovereign Yorùbá nation or regional autonomy will be the Eldorado of the black race and, the sooner we all make it a reality, the better for all and sundry.

In my own personal conviction, a revert to the 1963 constitution (regional autonomy) or, a sovereign Yorùbá nation will still fit into the above headline, "To Your Tent Oh Israel, Yorùbá Ilé Tó Lọ."

The other categories of people who firmly believe in the status quo are entitled to their freedom of choice. However, the political brouhaha in Yorùbá land by many who tacitly or directly, are benefiting from the current political status quo will not stop an idea whose time has come.

Yes, "nothing is more powerful than an idea whose time has come." Victor Hugo, a French poet and novelist stated.

Now, it is pertinent to say, this is not the first time, Yorùbá as a people have fought and won against any form of conquest. Moreover, this may not be the last time. It will be shocking for many to know that in 1840 when the Yorùbá defeated the Fulani at Òsogbo, they captured some soldiers that were fighting on the side of the Fulani and when their faces were unmasked, they found out that, they have Yorùbá tribal marks on their faces.

Hmmm, "adìẹ ń jẹ ìfun ara wọn"

A classic case of the fifth columnists. The most dangerous enemies in the battlefield are referred to as, fifth columnists. They are the enemies within. This is interpreted in Yorùbá language as "bí ikú ilé ò bá pani ti òde ò lè pani."

The consequences that will befall our kinsmen that have fallen into this category of the pro-current Fulani status quo, including those that are part of the pro-current status quo but are hiding under the false pretense of regional autonomy or Yorùbá nation, are better imagined.

The question therefore is; what would happen if they do not genuinely, retrace their steps and support the call for a regional autonomy or a sovereign Yorùbá nation? The simple answer is eternal slavery and the extinction of Yorùbá as a race in our ancestral home.

WHAT, AND WHO IS A SLAVE?

One thing is certain for every slave; it does not matter how fatten is the crumb a slave is getting from his master's table; he will always remain a slave. Yes, a man loses his pride and identity the day he is captured and becomes a slave.

A slave lacks self-esteem and only works for the respect and dignity of his master.

A slave is the shadow of himself in the real world of human value and dignity. This is because, his unique identity like language, kinship ties, custom, tradition and religion will either be corrupted or consigned into the dustbin of history.

Is this not the classic predicament of the indigenous Hausa people in northern Nigeria? Are they not the indigenous landowners in most part of the northern region? Have they not been captured and, surrendered their identity to the political will of the Fulani Emirate?

Hmmm, the so-called Yorùbá protagonists of the current status quo of the feudal lord and many who are for the status quo but hiding under the false pretense of Yorùbá nation or regional autonomy need to be wise and consider the exigency of time. Time is running out.

"A stitch in time saves nine"

The fundamental question is, what will be the endgame of many of our kinsmen who are feeding on big crumbs from the Feudal Oligarchy at the detriment of the vast majority?

The endgame is eternal slavery because; whatever crumb you are getting now will eventually make you lose your inalienable right to your ancestral land. It is called, "a carrot and stick approach"

"LET HE THAT HAS EAR TO HEAR, HEAR"


History does not lie! Truth, be told.


Did the mouthpiece of the Fulani Oligarchy, Mr. Femi Adesina, (regrettably our kinsman) not declare that we should surrender our land or be killed? Today, are we not almost at a dead-end of only two choices; your land or your life; that is, if we do not breakaway from the current Fulani oligarchy status quo and evolve a new trajectory for nation building to preserve our unique identity as a people.

HMMM!! "TO YOUR TENT, OH ISRAEL! YORÙBÁ ILÉ TÓ LỌ!!"

TIME WILL TELL.

David Adenekan, Is The Editor Of Shekinah International Magazine And A Media Consultant. He Writes From Chicago, Illinois.

Email: davidadenekan5**********.
Category:

Arts & Culture