Chief Tom Ikimi losses sister: Gov. Obaseki leads deligates to commiserate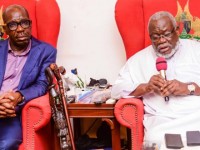 The Edo State Governor, Mr. Godwin Obaseki, has led other government functionaries to commiserate with a leader of the Peoples Democratic Party (PDP), Chief Tom Ikimi, over the passing of his sister, Theresa Namorie Ikimi.

Others in the entourage include the governor's Chief of Staff, Hon. Osaigbovo Iyoha and Special Adviser on Media Projects, Mr. Crusoe Osagie, among others.

Obaseki, while expressing grief over the loss, prayed for God to grant the PDP leader and other members of the Ikimi family the fortitude to bear the irreparable loss.

The governor said, "We're here to express our sincere condolences and that of the people and government of Edo State on the passing of your late sister, Madam Theresa Namorie ikimi.

"As a devoted catholic, we cannot question God Almighty. We know you're older than her but God in his infinite wisdom decided to call her home before you.

"We know how difficult and painful it is for you but we're here to sympathize with you and pray that God Almighty never gives you challenges without the capacity to handle them. Only Him knows why he has done what he has done."

He added, "We came here to commiserate with you and ask you to be strong. We want to let you know that we're here in prayers with you through this very difficult time. We pray to God Almighty that He will receive the soul of your younger sister, Mrs. Theresa Ikimi and all those that have also departed in his bosom, Amen."

Responding, Chief Tom Ikimi thanked the governor and his entourage for the visit, adding, "I feel strengthened that I have the support from the Governor and Deputy Governor of my state who have not visited me at this time of my distress. I feel very confident that I can cope with the circumstances that my family has found itself in."

Family sources revealed Teresa Ikimi has had series of health challenges in recent times but finally lost the battle on Sept. 6, 2022.
Category:

News