IGUEBEN CONSTITUENCY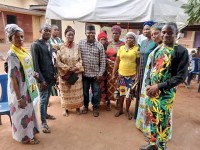 EDHA 2023: MY CANDIDACY SIGNALS A NEW DAWN FOR IGUEBEN CONSTITUENCY - AKAHOME.

The Young Progressives Party (YPP) candidate for Igueben Constituency in the Edo State House of Assembly election in 2023, Hon (Dcn). Harrison Akahome has said his candidacy signals a new dawn in the political history of Igueben Constituency.

He made the assertion, weekend, as he continues to drum support for his candidacy across the ten wards of the constituency.

Addressing a cross-section of stakeholders and party faithful comprising youths, women and the elderly, Hon. Akahome reiterated his commitment to upholding his electioneering promises to the people if elected, emphasizing that dedication to duty at the legislature will undoubtedly, enhance the empowerment, growth and development of the people.

The House of Assembly hopeful explained that sustaining quality education is at the core of his mission to redefine representation in Igueben land. Hence, he will during his first 100 days in office, deploy all arsenals at his disposal in ensuring that the Igueben College of Education which the State Government technically removed under the watch of the outgoing EDHA member will be retrieved back to the people of Igueben.

Hon. Akahome urged the electorates to vote for a credible candidate with verified democratic attributes, noting that accountability, leadership pedigree, a record of service and an honest assessment of the individual as against party interest should form the barometer for choosing the next representative in other to change the political fortunes of the Igueben constituency.


Directorate of Media and Publicity, Harrison Akahome Campaign Organization.
Category:

Politics