First Igbo translation of Quran published in Nigeria
The first translation of the Quran into the Igbo language has been published in Nigeria.
It was launched at an event in the capital, Abuja, at the Ansar-Ud-Deen Mosque, where Muhammad Murtala Chukwuemeka told the BBC it took him five years to translate the sacred Islamic text into Igbo from Arabic.
Igbo is primarily spoken in south-eastern Nigeria, where the majority of people tend to be Christians. Nigeria is Africa's most-populous nation and has a mainly Muslim population in the north, with the south being largely Christian.
However some members of the Igbo community follow other religions - and not all Igbos live in the south-east.
Mr Chukwuemeka converted to Islam in 1989 and later studied to become an Islamic cleric.
He says he has printed hundreds of copies of the Quran in Igbo as he wants to spread the "message of Allah" to his Igbo brothers and sisters.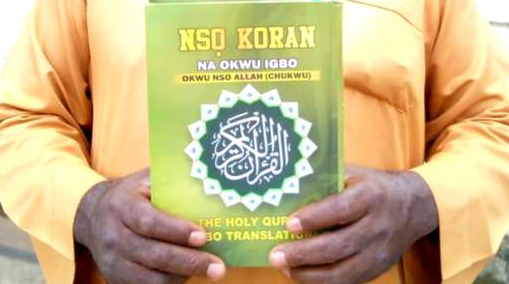 The Quran has already been translated into Hausa and Yoruba - the two other most-widely spoken languages in Nigeria.
Category:

Religion