AFENIFERE AND ITS ADVERSARIES AT A TIME LIKE THIS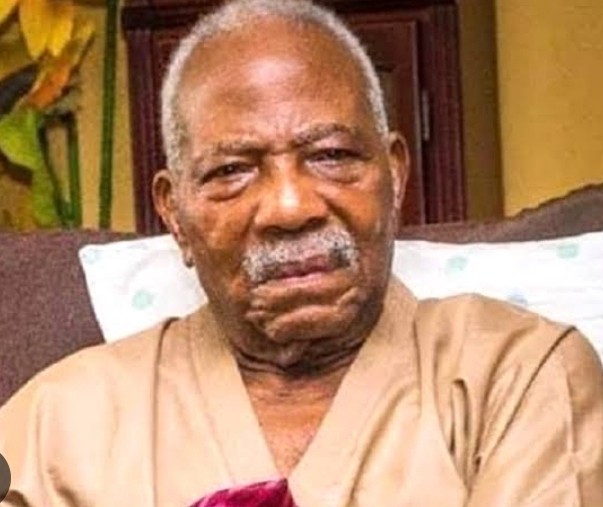 #Iroyinominira
18th September, 2023

Why Are Our Elders Dancing Naked In The Market And, Will Afenifere Not Outlive Every Regret And Disappointment: A Rejoinder; "To Say That I am Sad And Disappointed At The Turn Of Events (In Afenifere) Is An Understatement." Chief Reuben Fasoranti.

The thinking in some quarters that Afẹ́nifẹ́re is adrift is a figment of imagination in the real sense of organizational structure. As at today, Afẹ́nifẹ́re under the able and indefatigable leadership of Chief Ayo Adebanjo (acting National Leader), Oba Olaitan Oladipo (Deputy Leader), Chief Sola Ebiseni (National Secretary) and Chief Dapo Sonibare (National Treasurer / Financial Secretary) is very intact, and cannot be overemphasized. These are the key positions that mostly run the day-to-day operations of an organization.

That the Organizing Secretary and some non-executive members of the organization decided to oppose the collective decision of the organization will not be a reason to describe the organization as being drift from its core value and political ideology of the founding fathers.

In addition, in every democratically structured organization, there is a room for dissent opinion but such opinion will not be enough to defeat the goal and vision of the organization.

Now, it is imperative to say, it will be a misrepresentation of fact as alluded to, by the protagonists of President Bola Ahmed Tinubu that the decision of the leadership of Afẹ́nifẹ́re not to throw their weight behind Bola Ahmed Tinubu for the presidential election in 2023 has caused a drift from its core value and ideology.

Suffice it to say, we should stop calling for war, where there is no war, because Afẹ́nifẹ́re will outlive all of its adversaries or antagonists.

Who told Pa Reuben Fasoranti that the leadership of Afẹ́nifẹ́re that he left behind are at war or loggerheads with each other, and where is the drift coming from?

Many of us in the USA had thought that the diatribe between the former Leader of Afẹ́nifẹ́re; our Papa Reuben Fasoranti and his successor, Chief Ayo Adebanjo was a banter that would not again rage in the public after the former adopted President Bola Tinubu as his preferred candidate for the Presidency without adducing any reason whatsoever. Apart from saying, others were endorsing him and Chief Ayo Adebanjo who was now on the saddle leading the group endorsement of Mr. Peter Obi, adducing the need for inclusiveness in a federal polity, building equity and trust among the ethnic nationalities constituting the Nigerian geographical expression as a country and good governance, as factors in making that determination.

We also read a statement by the Secretary General of Afẹ́nifẹ́re, Chief Sola Ebiseni tracing the processes and adducing a narrative that the issue of adopting Mr. Peter Obi was an issue of debate by delegates from various states in the group for several months culminating into their decision to adopt Mr. Peter Obi. It seemed to those of us waiting for the elders to show us the way, appear to be a well considered decision by our parent body, so we began to campaign for Mr Peter Obi here in the USA. It was weeks after this adoption of Mr. Peter Obi that Asiwaju went up to Akure and our Baba, who had retired and whose resignation letter was widely circulated among our members here in the USA, suddenly assumed a re-launch of being Leader of Afẹ́nifẹ́re. That seemed an anomaly to those of us here. Where in the world does anyone who voluntarily resigns from an organization extolling his successor, suddenly renege in a manner as if the group is a private family estate issue. Indeed, when some of us were student union activists, involved in the struggle for democracy, held meetings with Senator Abraham Adesanya at various times in Lagos, it was the late Otunba Onasanya, Sir Olanihun Ajayi, Chief Ayo Adebanjo, Senator Kofo Bucknor-Akerele, Senator Femi Okurounmu and Mr Ayo Opadokun, (after his release from detention) that we frequently saw with him. Chief Fasoranti was never in the mix.

Although we are younger elements in Afẹ́nifẹ́re, we are old enough to know that when Chief Adekunle Ajasin appointed Senator Abraham Adesanya to act as leader, he no longer himself participated in the affairs of the group. When Senator Abraham Adesanya appointed Chief Fasoranti as Leader, he never participated or made any utterances on behalf of the group. These are precedents.

These Leaders did not even publicly resign. Therefore, what has pushed our Baba who not only appointed a new Leader and Deputy but also publicly resigned to begin to assert himself as if he was still the putative Leader, even after resigning?

Is President Tinubu's tenure larger than the collective interest of the region and country?

Our Baba had endorsed Jonathan as President in 2011 and 2015. He was Afẹ́nifẹ́re leader when the group endorsed Alhaji Atiku Abubakar in 2019.

Did Afẹ́nifẹ́re support former President Olusegun Obasanjo, OBJ in 1999 for the presidential election and did he not win the election without their support; whether the election was rigged or not?

Did Chief Bola Ige not accept to serve in OBJ's cabinet against the wisdom of some officials of the organization not to serve in the cabinet? Did this political intrigue not lead to the killing of the Cicero of Ìjẹ̀sà land, Chief Bola Ige?

Has Afẹ́nifẹ́re not outlived all of these shenanigans and complicities?

Did OBJ with all his political sagacity and the influence that he wielded as the President and Commander-In-Chief of the Armed Forces not beckon on the leadership of Afẹ́nifẹ́re for great support to succeed in his government and win the second term election?

Today, has Afẹ́nifẹ́re not outlived OBJ'S eight years (1999 to 2007) of leadership of the country?

Did Pa. Ayo Fasanmi (of blessed memory) and some disciples of Bola Ahmed Tinubu as the de-facto governor of Lagos state not do everything possible to split Afẹ́nifẹ́re into two and decimate the political stronghold of the organization? Did the Chief Fasanmi and his followers succeed?

Has Afẹ́nifẹ́re not outlived Pa. Ayo Fasanmi of blessed memory?

Did another group, Afẹ́nifẹ́re Renewal not spring up to snatch the leadership of Pan Afẹ́nifẹ́re and reposition itself as the identity of Afẹ́nifẹ́re? Did they succeed?

Has Afẹ́nifẹ́re not outlived this other group?

The resurgence of imposters at Baba Reuben Fasanranti's house, claiming that Baba who is close to 100 years old of age and deserve a very peaceful retirement in his house is now the one leading Afẹ́nifẹ́re, is laughable.

Also, did Pa Reuben Fasanranti not resign as the leader of the organization due to old age and health reasons (senility)? What has now changed?

Moreover, are we sure it was Pa Reuben Fasanranti that was issuing all the press releases and notice of meetings we are seeing on the pages of print and online media? Was it not in view of his old age and health reasons, cognitive disease (senility) that he admitted and resigned as the National Leader?

Yes, you cannot approbate and reprobate. It may be counterproductive to organizational goal and vision.


Hmmm, who is fooling whom!

Yes, this too shall pass!

To some followers of President Bola Ahmed Tinubu who, with the thinking that because Afẹ́nifẹ́re did not support his election for the office of President, believe that it is now the time to payback. It is however, their belief that since he has the axe or power and can therefore, use same to dismantle Afẹ́nifẹ́re and reposition the group with his own men; political gladiators (that the only reason for joining Afẹ́nifẹ́re is for political gains at the detriment of Yorùbá as a people) who know nothing about the history and philosophy of Afẹ́nifẹ́re. I have news for you. No mortal can destroy a spirit being. Afẹ́nifẹ́re is a great idea of welfarism borne out of embodiments of spirit being in Pa Jeremiah Obafemi Awolowo, Chief Bode Thomas, Chief Adekunle Ajasin, Chief Abraham Adesanya and host of others.

Afẹ́nifẹ́re is a great embodiment of spirit beings that will live from generation to generation.

How many defunct political parties (Action Group, Unity Party Of Nigeria, Social Democratic Party and Alliance For Democracy) that we have had? Nevertheless, Afẹ́nifẹ́re has outlived them all.

What makes you think Afẹ́nifẹ́re will not outlive President Bola Ahmed Tinubu?

One: Every president is mortal and death has no human limit. It also has no "'I will die not," contract' with no human being but Afẹ́nifẹ́re will live.

Two: Human factors like military coup, impeachment or a defeat at the poll for reelection but Afẹ́nifẹ́re will live.

Three: Constitutionally, tenure term for president in Nigeria is two terms of four years each, totaling eight years; and the tenure of whoever is in office will be expired but Afẹ́nifẹ́re will live.

In other words, just as Afẹ́nifẹ́re has outlived every elective position in the past, President Bola Ahmed Tinubu will not be an exception. "Kí Elédùmarè dá ẹ̀mí gbogbo wa sí" (may the Good Lord preserve our lives).

In summary, there is no drift in the Afẹ̀nifẹ́re. Except for the few estranged members who are throwing tantrums and calling for war, where there is no war.

Please, stop the bickering and maintain the status quo as left behind by all the predecessors including Pa Reuben Fasoranti!

Methinks, the so-called estranged members can still humble themselves to retrace their steps and embrace the only and true leadership of Afẹ̀nifẹ́re, Chief Ayo Adebanjo.

Yes, I believe the window of opportunity for forgiveness is widely opened, only if they are ready to swallow their pride and show a sense of remorse. A Yorùbá adage says, "tí a ò bá gbàgbé ọ̀rọ̀ ànọ́ a ò ní rí ẹni bá seré (if you do not forget the wrongdoing of yesterday, you will not see a friend to play with)."

In the final analysis, I truly doubt if President Bola Ahmed Tinubu will use his own hand to destroy the house that made him who he is today. Hmmm, "odò tí ó bá gbàgbé orísun rẹ̀, ó máa gbẹ ni" (a river that jettisons its source will dry up).

CAN A MORTAL DESTROY THE INFINITE?

Truth Be Told, Afẹ́nifẹ́re Has Outlived All The Founding Fathers Including The Late Sage, Chief Jeremiah Obafemi Awolowo, Chief Bode Thomas, Pa. Adekunle Ajasin, Chief Abraham Adesanya And Host Of Others.

Yes, President Bola Ahmed Tinubu And Pa. Reuben Fasanranti Are Mortals And Afẹ́nifẹ́re Will Outlive Them.

TIME WILL TELL.

David Adenekan Is The Editor Of Shekinah International Magazine And Secretary Of Afẹ́nifẹ́re USA. He Writes From Chicago, Illinois.

davidadenekan5**********.
Category:

Arts & Culture