Fáilte Ireland appointed as Sustainable Development Goal Champion for 2023-2024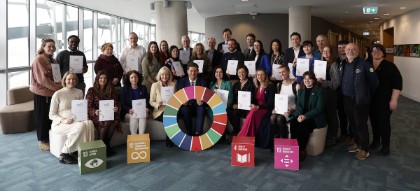 Fáilte Ireland has been appointed as a Sustainable Development Goal Champion for 2023-2024, in an initiative announced by Minister for the Environment, Climate and Communications Eamon Ryan TD.

Fáilte Ireland has a long-term commitment to the sustainable development of the tourism industry in Ireland and as SDG Champion, will act as an advocate and promoter of the SDGs across the sector, supporting tourism businesses to develop sustainable practices.

26 organisations from across Ireland who are leaders in driving forward Ireland's progress towards the United Nations Sustainable Development Goals (SDGs) will participate in the programme, which aims to raise public awareness of the SDGs.

Speaking about the launch, Minister Ryan said:

"I am delighted to be relaunching the SDG Champions programme for 2023-2024. We are facing major challenges in achieving the Sustainable Development Goals, with unprecedented pressures on our planet, economy and society, as well as the impacts brought about by the Covid-19 pandemic. Now is the time to accelerate action towards achieving the goals, to build back better while leaving no-one behind.

"The SDG Champions Programme recognises that the SDGs are for everyone and that everyone can make a contribution to their success. Over 80 organisations applied to take part in the programme this year, underlining the readiness of Irish society to assist in ensuring that Ireland becomes a global leader in achieving the goals. Achieving the SDG targets by 2030 is a collective task that cannot be accomplished without partnership. My Department looks forward to a successful collaboration with this year's champions, as we work together to achieve the Sustainable Development Goals and the 2030 Agenda in Ireland."

Speaking about the programme, Jenny DeSaulles, Director of Sector Development at Fáilte Ireland added

"Sustainable development has been a key area of focus for Fáilte Ireland for a number of years now, and we are proud to be appointed Sustainable Development Champions today. As the National Tourism Development Authority in Ireland, we are strategically identifying and building the SDGs into our work programmes, and we look forward to using this platform to further enhance our ability to support and empower the tourism sector to play our collective part in the delivery of the SDG targets."

Champions have been selected from across the public, private, community, voluntary, youth and NGO sectors and are represented by larger, national organisations and smaller community groups.
Category:

Tourism