Why it will be very easy for the North to overrun Yoruba land... Lanre Osagie.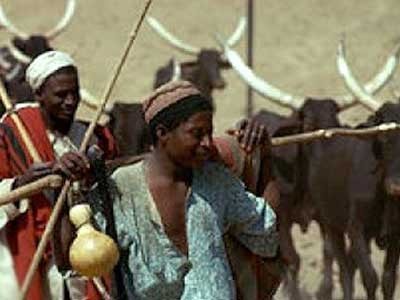 I have been so worried by the recent US security warning on Nigeria. The US has evacuated non essential staff. While I was reading the piece on my WhatsApp, at least three parties were taking place this evening in my neigbourhood by my Yoruba people. My sister is even one of the celebrants, of the same Yoruba mother but different father.
We need Yoruba because of the population to save Southern minorities, other than the domineering Igbo, but the Yorubas are not available for this historic responsibility.

I'm afraid my motherland will be overwhelmed, destroyed and taken over by terrorists sooner than we anticipate for the following reasons.

1. Though Asiwaju Tinubu is the APC Presidential candidate, it should be clear to any intelligent person that they wont hand over power to him. He is not one of them. Buhari and his cabal want to produce their successor, not Asiwaju. His victory at the primary was a shock to them. Now, they are working to stop him. They will certainly stop him.

2. When you see El Rufai suddenly supporting Tinubu, a wise man should know that a cat cannot suddenly claim she wants to wed a rat, except for the cat's dinner.

3. The Yorubas are highly educated but politically naïve. They have the best experts in almost every field but they are like an overfed Agric chicken that has so much weight but no strength, empty.

4 There is no region of the country that is not armed to the teeth, except the South West. I should know, because my father is from the South South and I live in Warri and shuttle between the city and Port Harcourt.

5. As a former military commissioned officer, I know what is going on around me.
I was in the North recently, visiting Katsina and Zamfara states. The level of weapons displayed by Vigilantes gave me goose pimples. I saw civilians with AK 47 and I wondered why Ondo State is only recently shouting that Zamfara vigilante are using AK 47 when many northern states have had their civilians using AK 47 since 2017.

6. The South West is the new hub of armed groups. Though the SW Governors came with Amotekun, they are weak and fragile.

Who will save the Yoruba, my people? I really don't know. The average Yoruba soldier is weak, garrulous and very, very naïve. They are very good professionally, but lack political understanding, lack devotion to the cause of their race, and are often driven by pecuniary gains.

Call a Yoruba military man into a meeting, the first thing he asks from you is transport money even if the meeting is designed to save his perishing people. Fulani man can walk from Sokoto to Maiduguri in defense of the interest of his own people.
He does not understand what is called sacrifice.

There are committed ones, but they are very, very few. Most of the Yoruba soldiers I have seen are only looking for money. The same with Yoruba DSS, Police and Navy. Even when they fight gallantly, its to defend Nigeria against the heritage of their own people, terrible. No sense of history.

They don't understand what is ethnic nationalism. It's as if the Nigerian Govt deliberately recruited the worst Yoruba people into the Army.

7. The Fulani or any race in the North would never tolerate what the Yoruba tolerate. Imagine, a Fulani Major in the same command with me during a Storm Operation in Maiduguri in 2020 told me his people won't tolerate what Fulani armed men were doing to Yoruba and Igbo. He said if a Yoruba group goes to Kano or Katsina to invade their forests, kidnap Hausa or Fulani people and rape their wives, even kill their Emirs, he said the next day Fulani or Hausa soldiers would leave the barracks to flush out the invaders. He told me "They won't wait for any order Walahi."

How do Yoruba soldiers feel that armed Fulani are raping their mothers and taking over Yoruba farms? Don't these Yoruba soldiers have shame? Don't they have dignity?

The Igbo are even better. At least I know many that have deserted the Army to join IPOB, not the typical Yoruba soldier known for beer parlour enjoyment and parties all the time.

8. I am worried. What we should do in the South West is to look for young civilians, train them, arm them. If we fail to do this, Yoruba will become history. I have said my own. Let us wait and see.


Lanre Osagie.
Clevenard.com.
Category:

Society