Diaries of An African HomeComer: Leaving Europe after 20 years or Audacious parenting Part Four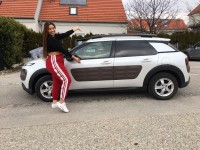 AUDACIOUS PARENTING PART 04

ACKNOWLEDGING MY TRIBE

An African proverb says, "if you want to go fast, go alone. If you want to go far, go together." Another says, "It takes a village to raise a child." If you have been following this mini-series, you have met the main characters of this journey of mine, my daughter (my big boss), my son (my part-time lawyer), and my co-parent (my accomplice). Now it is time to acknowledge my tribe, the people who keep putting rainbows in my sky each time it looks like the sun would not shine. – people who stood by me, reached out a hand or lent me a shoulder to cry on in my most profound moments of need. I am talking about amazing people who showed me generosity and or sheltered me in many ways when I lost mine and badly needed one.

Looking back from here, I firmly believe that when the Universe drops us from the top of the mountain to the depth of the valley, it arranges for people to be there to catch us, so you do not break all our bones. Some of these people are strategically placed to walk towards us as we fall; others are equally strategically placed in the way that we only see them when we put in the work and when we find them, they put on our path the stepping stones we need to get back to our feet and to bounce forward into the next chapter of our life journeys.

In this part 04 of 05, I want to take a moment to express my deep gratitude to all the wonderful people who made and continue to make way for me as I journey through this adventure called life. If I were to list all of you here, Facebook would crash down. So I will mention a few and keep the rest of you in my heart. So if your name is not mentioned, know that I have you in my heart.

My roots – my family
I am who I am and do what I do because of the giants on whose shoulders I proudly stand. The unshakable pillars of that, besides those of blessed memory, remain the outstanding woman who raised me with an iron hand, Bibiana Taku, and Chief Fuatabong, the incredible uncle who joined hands with her to make sure that I received an excellent education. A Big Fat Thank You to my lil sis Atabong Therese for being the first serial client of GloBUNTU Books. I am grateful to my siblings, my dad and the rest of my family for their understanding and love.

My training ground - Austria/Europe
A big fat THANK YOU to my Austrian tribe for having my back in my most vulnerable moments. Thank You, Simon and Silvia Inou, Dr Senta Ziegler, Christiana Marek, Joyce Lang, Gabi König, Anna Zambelli, Barbara Stöckl, Shams Asadi, Ludovic Lath, Gigi Miso, Hortence Gwambia, Margit Wolfsberger, Michaela Gola, Gertrude Tauchhammer, Mathilda Legitimus, Esther Maria Kürmyr, Waltraud Rashide, Thomas Traub, Late Honorable Minister Hundstdorfer, Peter Wesley, Michael Fleishhacker, Nicola Jobarthe, the team if TEDX Klagenfurt especially Sene and Marko and many others …

Thank you, Vienna, Austria, Europe and the USA, for all your life lessons and let me go when I over-extended my stay!

The cradle of my creativity – South Africa
When you drop into a new country as I did, with no backup plan, you need people to catch you from the first day. I am infinitely grateful to the people who enabled my first baby steps in SA. This include but is not limited to Vanessa Perumal, Irisha Luanga, Ryana Jolly Mokorosi, my forever friend Molatelo Shikwane, Grace Lekalakala, Mamilikie, Jamela Mhlongo, Kelvin Chaplin, Angeline Mhlanga, Thalitha, Anthea, Belinda Nehwoh, Segwkwoung, Adeliade Steeley Busi Dlamini, Kilo and many more. Thank you to all my GloBUNTU Moms and dads for trusting me with their amazing kids, allowing me to work with them and bringing out our GloBUNTU Young Authors. THANK YOU, my sista Anthea for taking this blueprint legacy to the next level by honouring our young authors and my little self with the "African Authors Honoree Award.

Thank you, SA, for teaching me how to manage my vulnerability and grow my humility muscles. Thank you for replacing my wounded ego with an infinite glow of gratitude, creativity, inspiration and the space to start a blueprint legacy.

My next chapter - Sao Tome and Principe
A month ago, I embarked on a new chapter, the next chapter, equipped with all the experiences and lessons from the past. I owe the inspiration and the groundwork for this chapter to my outstandingly remarkable friend Honorio Laves, who sparked my curiosity about Sao Tome and Principe in 2009 and has been very instrumental in paving the way and introducing me to the right people in his beautiful country - STP. I am wordlessly thankful to my new STP tribe, friends and family, especially my new big sister Hon. Maria das Neves, my first host Lady Fatima Vila Nova, my second host Elisabete Carvalho. Thank you to Mr Dilson Carvalho, Dr Ernestina Menezes Neves, my brother Lawrence Mbote and my growing circle of friends and partners in the beautiful STP.

Watch out for part 05 loading!
#audaciousparenting
#followmetoafrica
#globuntubooks
#globuntumindshift
Category:

Family & Home