The gods are warning us!!!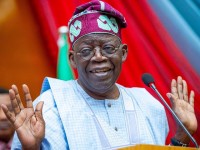 For our own good, I hope we listen.

I do hope we will hear and obey.

It happened first in Lagos.

The NBA conference was held a few minutes from Tinubu's residence.

Yet Tinubu didn't show up.

Rather, he sent Shettima to stand in for him.

We asked questions.

Nothing was said.

Tinubu kept silent.

And we carried on as if everything were fine.

In that conference, Shettima let out what his mind could no longer conceal.

He told us that he would be in charge of security while Tinubu would be in charge of the economy.

That comment was not a gaffe. It was well thought out, calculated.

The president is supposed to be in charge of security as the commander-in-chief of the armed forces.

But in a Freudian slip, Shettima revealed the obvious.

He would be in charge of Nigeria.

In other words, Tinubu is just a placeholder for Shettima.

Today, that message was again made clear.

At the National Peace Accord held in Abuja, Tinubu was conspicuously absent.

Obi was there. Atiku was there. And so was Kwankwaso.

But it was Shettima who represented his boss.

He signed in place of Tinubu.

The message is clear.

A vote for Tinubu is a vote to make Shettima president.

Nothing more, nothing less.

I hope we learn before it's too late.

The antecedents of Shettima are mind boggling.

He was fingered in the Boko Haram emergence.

The thought of a renowned and notorious terrorist as president of Nigeria is terrifying.

But I know we shall overcome.

I trust Nigerians are watching.

The handwriting on the wall is clear and understandable.

Do not vote Emilokan.

Copied.
Category:

Politics