How can we continue to sing ' the Lords' praise in a strange land of vices!!!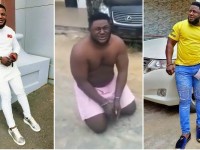 In Africa, we were taught the act of contentment from childhood till socialisation and civilization took its toll on us.
All of a sudden, we wanted to belong, we wanted to be respected and we wanted to live large even if it's beyond our means.
We choose to accept the negative side of socialization.

Some struggle each day to be successful while others prefer to take the easy and crooked way just to get ahead of others.
Sadly, they are the ones recognized and respected by our dysfunctional society, the family, friends and even the religious institutions.

The story of the millionaire Kidnapper, John Lyon a.k.a IK- Kpai-kpai arrested In Abuja and others like him attest to that and can be described as 'hasty climb makes sudden fall'

John Lyon is from Bayelsa State.
He was born on 22 Dec 1986. He was a former staff of Sterling bank
and uses the name Lyon interior hub as a cover up for his many kidnapping activities.
He spends lavishly in clubs, bars and his place of worship. Gives fat offerings and is worshipped as a perfect example of a child of God.
He has friends, he has family and close associates.

He claims to be a graduate of the University of Calabar. Hmmm, one will wonder where we all got it wrong. Is it that his certificate wasn't able to cater for his needs or just sheer greed at play.

Honestly, there are lots of lessons to learn from happenings surrounding this man.

To our young ladies, when you are praying for a God fearing hubby, I pray you learn to look beyond the pictures, good looks, fat bank accounts and 'spiro' attitude.

To that bros working tirelessly to make an honest living, When you are getting the impression that you are not doing enough because you see your mates living an expensive life, I hope you understand that not all that glitters are gold.
And to our parents, I hope we learn from this and stop comparing our children and sons in-laws to others.
I hope we all realizes that life's race is not to the swift but that time and seasons happens to us all.

Truth is, the scriptures can't be broken, we will all reap what we sows, whether good or bad and if not now, then later.

John Lyon was recently involved in the kidnap of one Danjuma, a bank staff where he and his men successfully demanded over 50 Million naira and have confessed to having committed the crime.
Kudos to the generation that don't bother with the source of ones income o. Una do well.
I am even surprised he is yet to blame the government for his choice of life. Because that's where it all ends.
Instead of looking inwards to correct our faults, we point fingers and shift the blame.
And people like I keep asking my generation... For how long do we continue to sing the lords praise in a strange land of greed and other evil vices....
Idemudia Franca
journalist,
clevenard.com..
Category:

Family & Home