DEBTS INCURRED UNDER BUHARI JUSTIFIABLE: A CARELESS TALK BY Mr. RAJI FASOLA -David Adenekan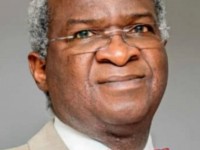 #ÌròyìnÒmìnira
August 22nd,2022

The statement that was made and published in the Punch Newspapers of August 26th, 2022 is another careless talk made by Mr. Raji Babatunde Fasola in recent years. It is indeed an empty rhetorics that has no common sense.

Can someone tell Mr. Raji Babatunde Fasola to stop all of these ranting because, many citizens are very uncomfortable with his careless talk in such a perilous time like this. Can't he read the mood of the citizens that this administration is a failure?

Hmmm, is Fasola saying the building of a refinery and construction of a rail road to Niger Republic with Nigeria loans are justifiable?

Is this not madness?

Are we not forced to say that the likes of Babatunde Fasola should cover their faces in shame with this kind of negative rhetoric?

How could someone with a sane mind justify the debt servicing that has brought untold hardship on the ordinary citizens???

Suffice it to say, Nigeria's inflationary gap now defies all logics. The naira exchange rate to a United States dollar is almost N700 at the black market and there is a strong warning sign that it may approach N1000 ahead of their so-called 2023 general elections. The evil and demonic politicians in Nigeria are pile stocking billions of dollars for electioneering campaigns.

It should be noted that the exchange rate at the last day of former President Goodluck Ebele Azikiwe Jonathan was N195 to United States dollar. How did we get here, if not because we have a government that lacks the capacity to manage our fiscal and monetary policy economics?

Also, Nigeria's debt portfolio is increasing at a very fast rate without any correspondence improvement in the life of the citizens.

Are the reasons for building infrastructures not for job creation and to increase the per capital income; and also, to provide good standard of living for the citizenry?

For goodness sake, why should someone justify evil!!

What actually went wrong with Babatunde Fasola that obtained a law degree in the great citadel of learning, the University of Benin?

Incidentally, the writer went to the same institution and knew the high standard of quality of education in the Faculties of law and Social Sciences in the eighties and early nineties. Has he forgotten all the economic theories, the micro and macro economics from some of the best professors in the history of Nigeria?

How justifiable is this when students of tertiary institutions have been at home for over six months without an end to the imbroglio between ASUU and the FG? Will Fashola also tell nigerians that dashing our hard earned monies which were equally borrowed to purchase 10 exotic SUVs for Niger Republic justifiable?

The unending insecurity challenges across the length and breadth of Nigeria seems of no less concern to Fashola and his fellow co-travellers under this failed administration lead by Muhammadu Buhari.

Hmmm, what went wrong with all of these great knowledge that he acquired for free? Was it because tuition fee was free???

Hmmm, Mr. Babatunde Raji Fasola you goofed!

Can't you just keep mute and wait till the end of this barbaric Buhari administration when your tenure as the current Minister for Works will expire and just go back to your home in Lagos.

Are you sure you are a saint in this corrupt administration?

Hmmm, nobody is accusing you of stealing but, time will tell.

PLEASE STOP TALKING!!!

Has the rising debt profile been able to translate to any multiplier effects on the economy?

Yes, Babatunde Raji Fashola has now joined the league of rabble rousers that like to play to the gallery.

Is anyone still doubting that, there is a monumental corruption and great waste under this current Mohammadu Buhari administration?

Hmmm, what a shame!!!

AGAIN, PLEASE STOP TALKING!!!

David Adenekan who is the Editor of Shekinah international magazine and a media consultant, writes from Chicago, Illinois.
Category:

Arts & Culture