THE PARADOX OF LEADERSHIP FAILURES IN TODAY'S NIGERIA -By David Adenekan.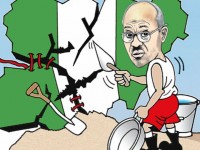 #Ìròyìn Òmìnira
29th July, 2022

To start with, there is a limit between good governance and formal education because, you do not need to be too formally educated for you to be a great leader. This is not to undermine the importance of formal education in this digital age because the writer of this piece also graduated from a great citadel of learning.

However, in this part of the world, we sometime think having a lot of University degrees are the only criteria for you to be a great leader.

Methinks, this is not true because many past leaders including religious leaders like Abraham, the son of Terah; Moses, the son of Levi; David, the Psalmist, Jesus Christ, the son of the Living God, Prophet Mohammed(SAW), Orunmila (Ifá Olókun Asọ̀rọ̀dayọ̀) and Ọbàtálá or Òrìṣà Ńlá (the creator of human body) did not attend any university and today, they are being mystified as semi-gods and great philosophers.

Yes, I concur that in this digital age, everyone who would be a leader should at least have a bachelor degree for a strong theoretical background, so that, it will be easy for him/her to conceptualize the issues of governance.

However, in the real sense of life, good leadership is by far borne out of other great attributes that can be enumerated below:

One, having good conscience and fear of God are the greatest attributes of a good leader. The fear of God is the beginning of wisdom. A man with no good conscience can never be a good leader. This is regardless of his PHD degree.

Today in Nigeria, we have had many examples of political appointees, elected leaders and technocrats that have all the University degrees of this world but they are the worst in governance. Former President Goodluck Jonathan bagged a doctorate degree in zoology but his administration was riddled with corruption and an unabated rising surge of insurgents.

About four months ago, the Accountant General of the Federation, Ahmed Idris, a Chartered Accountant and a Masters degree holder in Business Administration was suspended from the office because, he was alleged to have stolen a whooping 109 billion naira from the Federation Account while the Nigeria government cannot meet the demand for 7 billion naira by Academic Staff Union Of Universities (ASUU) to improve our standard of education.

It should be noted that the university lecturers are still on protracted strike at the detriment of the Nigerian students and the Muhammadu Buhari Administration is not bothered.

Babachir David Lawal, a graduate of engineering from the Ahmadu Bello University, ABU and former Secretary to the Government of the Federation, under the President Muhammadu Buhari Administration, was sacked for allegedly stealing millions of naira meant for Internally Displaced People (IDP).

Tafa Balogun, a law degree holder from the premier university, Ibadan and former Inspector General of Police, stole billions of naira that was meant for the Nigerian Police Service and buried it beneath the earth while the job performances and welfare conditions of the men and women in police uniform continue to suffer.

Dr. Diezani Alison Madueke, a PHD holder could not account for billions of dollars from the Excess Crude Oil Account while she was the Petroleum Minister under former President Goodluck Ebele Azikiwe Jonathan.

The list is endless.

Hmmm, what a monumental corruption in the history of Nigeria!

The question is, where is the good conscience that will account for good governance in all of these atrocities and wickedness?

Suffice to say it, no amount of formal education can defeat the power of good conscience in governance.

In fact, good conscience and the fear of God are the bedrock of good leadership.

Two, the ability to display sound judgment comes from good intuition. An intuitive person can easily assess information when it comes to making sound decision. A leader who lacks good intuitive does not possess the ability to make good judgment and he will, in no time wreck a lot of havoc on the people.

Did Senator Bola Ahmed Tinubu in the past before the 2015 general elections not describe Muhammadu Buhari as a religious bigot and tribal jingoist?

Was Tinubu not informed by his previous assessment and perception of Muhammadu Buhari's political antecedents before he decided to throw his weight behind the greatest sectional leader in the political history of Nigeria in 2015 and 2019 presidential elections respectfully?

Is this not a clear-cut poor judgment despite his level of education as an accountant with Mobil Oil?

Three; knowledge and wisdom. The Bible says, "let he that lack wisdom, let him ask from God", James 1:5. Yes, wisdom comes from God and the only way you can receive the wisdom of God is to fear God.

"The fear of God is the beginning of wisdom." This attribute is the inherent part of good leadership. It comes from having a good relationship with your maker and by extension, "loving thy neighbor the way you love thyself." All the known religions in most part of the world preach love as the greatest virtue.

Bearing in mind, the principle of "love your neighbor the way you love thyself," is it not wise to have the understanding that when you steal the money that is meant for others, you are stealing from yourself? This is because, metaphorically, you are just the exact shadow of others.

Are you not aware that the children of those that you have deprived of good education by stealing all the money that was meant for that purpose may grow up to be converted to armed robbers or bandits and kill your children on the highway inside a luxurious Omar jeep that you bought for them with the stolen money.

Hmmm! Have you not stolen from yourself in this scenario?

Major General Abdul Karim Adisa was the minister for works under the military leadership of General Sanni Abacha. As the minister for works, he did not do the needful by fixing the dilapidated Lagos / Ibadan express way and the same bad road that he did not fix when he was the minister for works later consumed his life in a fatal motor accident.

Hmmm!! What a proverbial words and food for thought!!

Four: Humility and service to humanity. One of the greatest virtues of leadership is humility. You can never be humble if you do not see leadership as a call to serve your people.

Yes, the center piece of leadership is humility and when you redefine it to mean something else, you have already set yourself for total failure. It is simply going to be counter productive.

Also, you can only be teachable if you are humble because, nobody has the monopoly of knowledge. Your humility will attract great teachers and counselors to your leadership. This great virtue may not be learned within the walls of a university. It is inbuilt and an inherent value from your many experiences in life. It is this kind of attribute that may endear people to you and make you a leader.

It should be noted that being humble should not be mistake for being stupid.

Hmmm, where is the humility when a presidential candidate, says, "it is my long life ambition to become the president of Nigeria and it is now my turn?"

Hmmm, the so called "ÈMILÓKÀN"POLITICAL JINXED."

There is nothing wrong in having a political ambition but, do you need to amplify it and make it a campaign slogan that makes people think you are desperate for power? Do you have control over the will of the people? It is not feasible except you have leadership qualities like humility and good sense of judgment that may endear people to you and make you their political leader.

Five: Career development and exposure. Learning about the many issues of life is not limited to the four walls of a University. Most great philosophers, including religious leaders like Abraham the son of Terah, Moses the son of Levi, David the great Psalmist, Jesus Christ the son of God, Prophet Mohammed (SAW) and Ọ̀rúnmìlà Baba Àgbọnìrègún travelled a lot to learn the ways of life of many nations. All of these exposures helped and shaped their views and inspirations in forming the best opinion about many issues and values of life that we are reading in the Holy Bible, the Quran and Odù Ifá today.

Also, the importance of career development, vis-a-vis; work experience cannot be overemphasized. This kind of knowledge is more practical than the formal knowledge you acquire from the four walls of a University.

In the final analysis, is it not rational to say, there is a contradiction of facts between governance and formal education in today's Nigeria?

Insofar, Psalm 11 vs 3 says ,"if the foundation is destroyed what can the righteous do." Also, can there ever be good governance if there is no basis for nation building? Nigeria is a contraption and a new trajectory to build a super structure on a solid ideological foundation cannot be overemphasized. It is on this note that a sovereign Yoruba Nation may be highly inevitable.

Hmmm, what a paradox of leadership failures in today's Nigeria!

May God Almighty save our people from many political leaders whose formal education is of no relevance to good governance.

In addition, may God give us political leaders that will make themselves available to the service of humanity. Àṣẹ Èdùmàrè.

Only time will tell!!!

David Adenekan writes from Chicago, Illinois.

davidadenekan5**********.
Category:

Arts & Culture