Press Release: African Tourism Board (ATB) and Egyptian Junior Business Association (EJB) Unite in a Pioneering Memorandum of Understanding to Boost Sustainable Tourism in Africa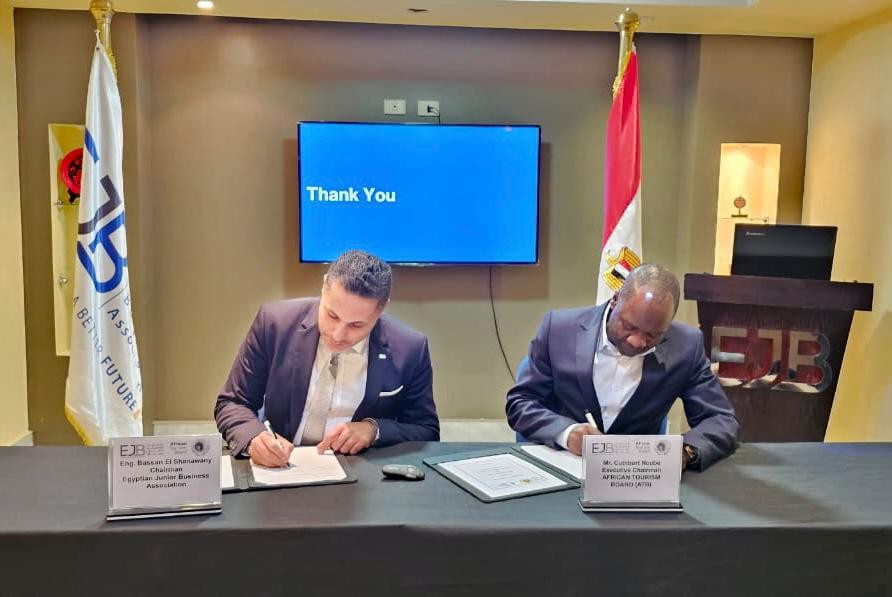 Cairo, November 16, 2023 – The African Tourism Board (ATB) and the Egyptian Junior Business Association (EJB) have officially sealed a groundbreaking Memorandum of Understanding (MOU) to foster collaboration and promote sustainable tourism in Africa. This strategic partnership, established between the EJB Tourism Committee and the ATB, sets the stage for a joint effort to stimulate economic growth and enhance the tourism landscape across the continent.
Key Points of Collaboration:

Shared Vision: Both the EJB and ATB recognize the significance of collaboration in achieving their shared goals of promoting Egyptian business development and advancing tourism in Africa.
Mutual Benefit: The MOU outlines a partnership that leverages the strengths, expertise, and networks of both organizations to create a positive impact on the tourism sector.
Comprehensive Scope: The collaboration will encompass information exchange, capacity building, policy advocacy, research and development, marketing and promotion, as well as stakeholder engagement.
Roles and Responsibilities: The EJB Tourism Committee will lead initiatives to engage members in tourism-related activities, while the ATB will provide support, resources, and expertise in sustainable tourism practices.
Implementation: A Joint Working Group will oversee the MOU's implementation, holding regular meetings to assess progress and address challenges. The Parties will jointly develop an annual action plan with specific objectives and timelines.
Financial Collaboration: Opportunities for financial collaboration will be explored, with specific agreements determined on a case-by-case basis and outlined in separate contracts.
Confidentiality: Both parties commit to treating confidential information exchanged during the collaboration with the utmost confidentiality, using it solely for the outlined purposes.
Term and Termination: The MOU will be in effect for three years, commencing on the signing date. Either party may terminate the MOU by providing a 30-day written notice.
Amendments: Any amendments to the MOU will be made in writing and agreed upon by both parties.
Arbitration: Disputes will be settled through mutual consultations and agreements.
This MOU marks a significant step towards fostering sustainable tourism practices and economic growth in Africa, as the ATB and EJB combine their efforts to create a lasting impact on the tourism industry.
About ATB: The African Tourism Board is a leading organization dedicated to promoting sustainable tourism and investment across the African continent. Through strategic initiatives and collaborative efforts, ATB aims to unlock the vast potential of African tourism.
For media inquiries and further information, please contact: Clevenard Media, +34 631 27 98 11.
Follow ATB on Social Media:
Facebook: ********************
Twitter: ****************
Instagram: ********************

About the African Tourism Board (ATB)
The African Tourism Board is a pan-African non-profit association that strives to promote sustainable tourism and foster economic growth across the African continent. Committed to collaboration and innovation, ATB works closely with stakeholders to unlock Africa's tourism potential.

About Egyptian Junior Business Association (EJB):
The Egyptian Junior Business Association (EJB) is a non-governmental, not-for-profit Organization that was established in 1999 with the mission to effectively participate in the economic reform process and enable the business environment to support Egypt's competitive ranking regionally and internationally.
Category:

Tourism

Writter:

(ATB)

Oganisation Name:

African Tourism Board (ATB)