Fubara's First 100 Days: quando principium est bonum By Celestine Ogolo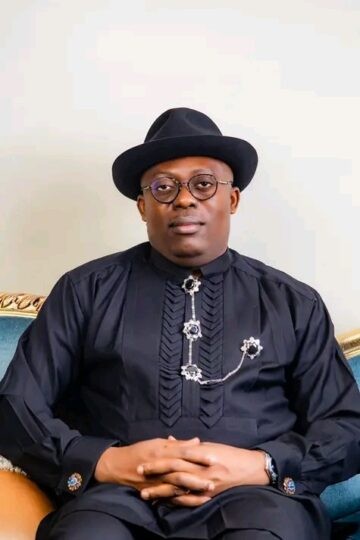 It was a rainy day. But the terraces of the Yakubu Gowon stadium, Elekohia, Port Harcourt, Rivers State, were packed to the rafters. People of all walks of life defied the downpour and human, and vehicular traffic to witness the swearing-in of Sir Fubara as the sixth civilian governor of Rivers State on May 29, 2023.
The mammoth crowd was not there just to witness history unfold before their eyes, but to hear the man to whom they had entrusted their destinies for four years, reel out his vision and programmes for the state. To them, it was worth the sacrifice, as Sir Siminalayi Fubara gallantly took over the reins of power and delivered what was clearly an epochal defining speech on his vision for the state. A speech that would form the basis of his assessment, going forward.
It has been 100 days since that momentous day when Sir Fubara took the oath of office before thousands of elated Rivers people at the stadium and millions who viewed from the comfort of their homes. The people's expectations knew no bounds with expectations of breathtaking accomplishments.
But like pundits and others would argue, what is so significant about first 100 days in office to warrant an assessment or even rolling out the drums to celebrate. However, a different school of thought thinks otherwise. The fact is that, over the years, especially since the days of the 32nd President of the United States of America, Franklin D. Roosevelt, who came to power on the 4th of March 1933, and pioneered the "100 days in office" concept, the world has adopted it as a standard. In one fireside chat, Roosevelt noted how busy and important his first 100 days had been. The term stuck. And over time, the idea has been used to measure the success or failure of governments.


However, some opinion leaders and writers believe that the first 100 days should not be the ideal yardstick to establish whether a government would perform creditably or not. Their argument hinges on the fact that by "no stretch of imagination is it a reasonable amount of time for a person to learn a new job, to be successful at it or to be productive with any certainty, leaving behind a legacy that an entire state can be proud of going forward".
In spite of this, in most democratic governments around the globe, it has become an important barometer, indeed symbolic marker when citizens consider how a governor's administration is doing. It is used as a basis to consider the functionality and effectiveness of a young administration as it gives an indication of a leader's management style, priorities and speed in implementing campaign promises.
One undisputed fact about Governor Fubara and which he has brought to governance is his cool, calm, calculated approach. Indeed, it would not be out of place to suggest that those who coined the cliche had him in mind, as his calmness has become in the words of Donald Atman, "the magic elixir that creates a place of balance, harmony and peace" in his service to the state.
A man with a quiet mien, respectable carriage, calm disposition and ever-smiling exterior, who believes that it is rain that grows flowers and not thunder, and that "calmness is the cradle of power", has through his approach harnessed the power of intuition, experience, maturity and wisdom to become effective in service to the state. When the need arises, he has also displayed that his calmness is an asset that can never be taken for granted.
On assumption of office on May 29, 2023, Governor Fubara hit the ground running, having laid out his continuity and consolidation agenda at his inauguration, where he outlined purposeful leadership, infrastructural development, healthcare, education, job creation, security and welfare of citizens, as top priorities.
Just like the 32nd President of the United States of America, Franklin D. Roosevelt did, Governor Fubara in his first few days in office pushed through the legislature a major supplementary bill to enable him kick-start his legacy project, the Port Harcourt Ring Road. He also submitted his first list of Commissioners which was approved. Major cabinet members of the previous administration were retained to ensure continuity in governance.
While his contemporaries were still trying to find their feet, Governor Fubara showed seriousness and readiness for the job. Key positions with clear functions were filled and the administration was up and running.
In Nigeria, history has shown that when a new government is formed to replace an incumbent, there is a penchant of jettisoning on-going projects, programmes and policies. Some are ridiculed and terminated. Oftentimes, public policies, regardless of their merits and positive impacts on society are needlessly reversed. This is mostly done because the new comers also want to have their ideas implemented. Rivers State had its fair share of these anomalies in the past.
Governor Fubara is clearly not cut out for such wastages. For him, the hallmark of good governance is continuity in policies and programmes, especially those that are progressive, developmental and geared towards improving the lives of the citizenry. Continuity in governance ensures effective resource management, which is key to good governance (efficiency in public sector management, accountability and transparency).
Not surprising therefore, Governor Fubara has within his first 100 days completed some of the road projects inherited from the previous administration. These include- the Omagwa internal roads in Ikwerre Local Government Area, Emohua and Ogbakiri internal roads in Emohua Local Government Area, the 10.3 kilometers Indorama-Agbonchia-Ogale-Ebubu-East/West Link Road, in Eleme Local Government Area, the 19.1 kilometers Oyigbo-Okoloma(Afam) Road in Oyigbo Local Government Area, the Botem-Gbene-nu-Horo Road in the Ogoni axis, the Omoku-Egbema Road dualisation project in Ogba/Egbema/Ndoni Local Government Area, the Ogbo-Ihugbogo Road and the Odiemudie Road in Ahoada-East Local Government Area and the 5.1 kilometers Mgbuodohia Road in Obio/Akpor Local Government Area.
The biggest of the road infrastructure project is the massive Port Harcourt Ring Road, described as the largest single project embarked upon by any state government in Nigeria. It is the legacy project of the Governor Fubara's administration.
The project which costs about N200 billion and was flagged off by the immediate past governor of the state and Nigeria's Minister of the Federal Capital Territory, Chief Nyesom Wike, is a 50.15 km dual carriageway and would have six flyovers, one river crossing bridge, and 19 rotary intersections and roundabouts. The project cuts across six local government areas and in the words of the Governor Fubara, the Port Harcourt Ring Road will further unite the people of the state, apart from other economic benefits. It would also lead to the development of new cities and decongest Port Harcourt and Obio/Akpor LGAs.


It has been proven over time that ring roads play huge roles in the development of large metropolitan areas. "Their impact on the urban spatial structure is mainly through inciting radial development patterns and the setting of commercial, residential and industrial activities near highway interchanges". Central areas decrease in dynamism when peripheral centres emerge, having gained from improved accessibility. This is what the Governor Fubara's administration aims to achieve with the Port Harcourt Ring Road project.
Aside road infrastructure, Governor Fubara's first 100 days has also made huge and remarkable impact in the area of education. His commitment to introducing smart schools and classrooms to provide world-class learning experiences and make Rivers State a knowledge hub is on course with the completion of reconstruction work at Government Secondary School, Okehi in Etche LGA, Government Secondary School, Emohua in Emohua LGA and Government Comprehensive Secondary School, Borikiri in Port Harcourt LGA.


The new state-of-the-art Convocation Arena of the University of Port Harcourt built by the Rivers State Government and completed within the 100 days in office of Governor Fubara, is a beauty to behold. There is none like it in Nigeria. And as stated by Governor Fubara during an inspection visit to the complex, the infrastructure will add to the uniqueness of the currently ranked number one university in Nigeria.
Welfare of the citizenry has been a prominent feature of the first 100 days in office of Governor Fubara. With the removal of fuel subsidy by the Federal Government early in June, Governor Fubara was the first to roll out palliative to help cushion the high cost of transportation. The state government rolled out free luxury buses to commute people round the city. In the last three months, thousands of people have benefited from the free bus rides.
For Civil Servants and teachers under the UBE who are also special beneficiaries of the free bus rides, life has never been this cosy as it is today. For the first time in nearly a decade, promotion letters have been released, some staff gaining as much as three new levels in one swoop. It is unprecedented and the financial benefits of their new status has increased their spending power and changed lives for good. Salaries, of course, have continued to be paid as and when due. Indeed, Governor Fubara's visit to the state secretariat complex in the first few days of his administration underscores the importance he attaches to the engine room of government.


Retirees of the state are not left out. For the first time in so many years, they are enrolled into the pension scheme and paid within two months of completing biometrics capture. A lot of them have benefitted in Governor Fubara's first 100 days in office.
As one of its primary duties, the Rivers State Government under Sir Fubara has continued to support the Nigeria Police and other security agencies in the protection of lives and properties of the citizenry and maintainance of law and order to ensure that people go about their businesses.
In his first 100 days in office, Governor Fubara has spoken out and challenged the authorities, especially the Federal Government and its agencies over matters that pertain to the welfare of Rivers people. He has spoken about the unending matters of the deplorable state of the East-West Road, the deceptive tool of the Ogoniland remediation, police brutality, among others. He has lived up to expectation in raising a voice for the people and pointed out that the Federal Government has been unfair to Rivers people.
Indeed, what Governor Fubara has achieved in his first 100 days in office is a clear pointer to the fact that Rivers State is in safe hands and that the journey will be smooth. As they will say in Latin, quando principium est bonum (when the beginning is good), then expectations are high that the end would be better.
Governor Fubara has in his first 100 days in office proven that Rivers people made a wise choice by electing him to pilot the ship of state. His consistent implementation of the continuity and consolidation agenda of the administration is paying off and the state is reaping the benefits. Truth be told, even the worst of blind partisan critics would find it difficult not to agree that Governor Fubara has surpassed their expectations.
However, even as we clink glasses as Rivers people to celebrate a successful, inspiring first 100 days in office of Governor Fubara, the truth remains that much still needs to be done. As stated by one time President of the United States of America, John F. Kennedy, at his 1961 inauguration ceremony, "All this will not be finished in the first 100 days. Nor will it be finished in the first 1000 days, nor in the life of this administration, nor even perhaps in our lifetime on this planet. But let us begin". Governor Fubara has begun and very well too. This first 100 days tells it all.

Celestine Ogolo is a member of the Rivers Equity Group.
Category:

Politics