Mother-Daughter to Go to Space Onboard Virgin Galactic's First Private Spaceflight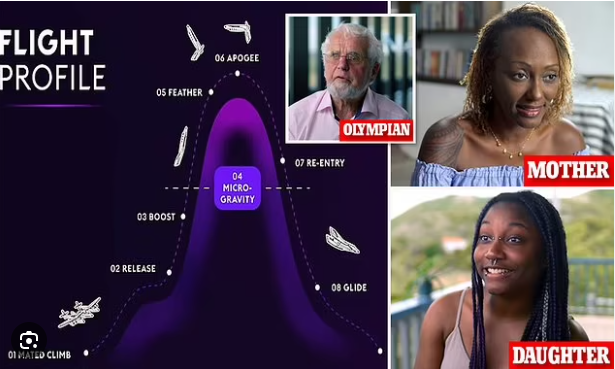 The twin-island Caribbean nation of Antigua and Barbuda are set to mark one of the country's most historic moments as Keisha Schahaff and her daughter Anastasia Mayers embark on a space journey that will see them become the first Caribbean astronauts and the first mother-daughter duo to go to space.
On 10 August, Antigua's Schahaff, 46, and her daughter, an 18-year-old Aberdeen University student, will board the Galactic 02 spaceflight from Spaceport America, New Mexico for Virgin Galactic's first private astronaut spaceflight and second commercial spaceflight.

To celebrate the historic occasion, the Antigua and Barbuda Tourism Authority will host two public watch parties will take place on 10 August in both Antigua and Barbuda, allowing for the entire nation to be a part of the celebration.

Galactic 02 will mark a historic and inspirational moment for the Caribbean and beyond, with watch parties and observances happening to celebrate the curiosity and achievements of the astronauts.

"Antigua and Barbuda's spirit of adventure is unparallel. We commend the duo who will for years to come serve as an inspiration for those within our society who dream of travelling to space, and as a reminder of fearless Antiguans and Barbudans who have broken barriers. We are excited to witness this moment in history and extend an open invitation to all to join us at the watch parties for this historic moment", said Henry Charles Fernandez, Antigua and Barbuda Minister of Tourism, Civil Aviation, Transportation, and Investment.

CEO of the Antigua and Barbuda Tourism Authority, Colin C. James added,

"We applaud our ladies as they embark on their remarkable journey to space. The excitement is such that the whole of Antigua and Barbuda feels as if we will be going to space with the ladies. We cannot wait for 10 August, and will be out with our flags to cheer the ladies on".

Special invited guests of the Prime Minister of Antigua and Barbuda, The Hon. Gaston Browne, at the watch party will be Sir Richard Branson founder of Virgin Galactic, and Christopher Huie, a Jamaican-American, who earlier this year became the 19th Black astronaut, family of the Antigua and Barbuda astronauts as well as Government officials and dignitaries.

The watch party in Antigua will take place at the Antigua Recreation Ground and in Barbuda, at the Holy Trinity Primary School. Venues will open at 9:00 a.m. with launch time shortly after 10:00 a.m.

In addition to being part of the countdown and witnessing the exciting launch of the Galactic 02 spaceflight from Spaceport America, New Mexico live on screens in Antigua and Barbuda, people attending the public event will enjoy entertainment and activities in celebration of the occasion.
Clevenard In Diaspora News podcast.
Wednesday, 9 August 2023.
Click to play or Download podcast in MP3 Now: First Mother-Daughter Duo to Go to Space Onboard Virgin Galactic's First Private Spaceflight.
For more Clevenard In Diaspora News podcast: https://clevenard.com/music

If you have your own podcast and looking for a platform to upload and share your content. Sign-up to start uploading yours on Clevenard.com Today and you know what, Its free.

Category:

Tourism